Home
>
Blog
>
Real Estate
>
Closing On Real Estate In New York: What To Expect From Start To Finish
Closing On Real Estate In New York: What To Expect From Start To Finish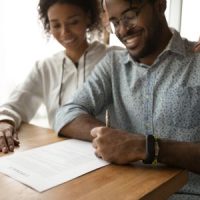 Whether you are a buyer or a seller, closing a real estate sale can be an exciting – and anxious – time for all involved. A real estate closing is a seemingly simple mechanism that allows the property to transfer from one owner to the next, but is preceded by weeks of preparation and work by both sides. This is a critical process in which small mistakes can lead to big problems, sometimes ending the deal altogether. When done correctly and with proper counseling from an experienced real estate attorney, the closing process can be rewarding for both sides in the end.
Early Steps in the Real Estate Transaction
The transfer of property starts with a listing, showings, and a prospective buyer. Preferably, the buyer has pre-approval for a mortgage to make this part more efficient. Once an agreement is reached to sell, the parties will contract to the terms involved with the sale, usually with the assistance of the seller's attorney.
The seller's side will also prepare the deed and tax transfer documents, and address any liens or judgments found in the title report. An escrow account including the down payment will be established to protect both the buyer and seller, in which a third party can hold funds as needed until closing.
Property Inspections
Inspections normally take place shortly after sale, depending on the terms agreed to. A buyer may purchase a property "as is", or they may require a detailed inspection, often with the aid of a licensed home inspector. This stage is nerve-wracking for both sides, as unexpected complications can arise and potentially delay the sale or drive up costs. If a significant problem is found, the buyer can back out of the deal or ask the seller to pay for repairs. Alternatively, the seller could agree to reduce the sale price as a way to factor in these unforeseen costs.
Additionally, New York's Property Condition Disclosure Act requires sellers to make certain property disclosures regarding the condition of the property and any potential defects. Sellers can also face legal liability if they actively or fraudulently conceal defects during the sale and closing process.
Clearing Title and Removing Liens
The seller or their attorney will be responsible for ensuring there are no issues with the property's title before transfer to the buyer. This includes making sure the title includes the property as described by the seller, and that there are no liens or judgments held against the property. This seems straightforward, but sometimes a forgotten lien or money judgment – even for a small amount – can linger and cause problems during a home sale. Without a "clean title", the property cannot pass on to the buyer. All issues related to the title must be addressed before closing. Due to the complex nature of the title search and potential issues, it is best to do this with the assistance of an attorney that is well-practiced in this area.
Renegotiate Terms and Lock in Interest Rates
Following inspections, disclosures, and any issues that may arise, either or both parties may seek to renegotiate terms. This can include reductions or changes to the sale price, based on costs incurred or anticipated.
If possible, it is also preferable to lock in the buyer's interest rate on the mortgage prior to closing. Market fluctuations can increase an interest rate even in the weeks leading to closing, with long-term financial ramifications for the buyer. The sooner an acceptable rate can be built in, the better for both sides.
Final Walk-Through and Closing
Before closing is complete, buyers will complete a final walk-through of the property to make sure everything is satisfactory and no issues have arisen since the original inspection.
Closing documents will be finalized and reviewed by all parties, as well as their attorneys, bank lenders, and real estate agents. This is a tedious process for all involved, but reviewing all fine print is crucial before closing. At this point, the buyer's loan funding will need to be finalized, and payment made by cashier's check or wire transfer. Once all closing documents are reviewed and signed, and funding complete, the house deed and keys pass on to the buyer.
Closing day can be a thrilling event for the buyer and seller, but it is hard to get there without some hard work and good advice. The attorneys at Cavallo & Cavallo have been helping buyers, sellers, and lenders in the Bronx, all New York City and Westchester County for over 32 years, and we can help you from start to finish during a property sale.
Contact Our New York Real Estate Attorneys To Guide You Through a Real Estate Closing
Buying or selling property is a rewarding process when done right, but closing on a property can be incredibly complex at times. With so many impactful steps involved, mistakes due to a lack of understanding, expertise, or experience can prove costly to both sellers and buyers. You should not hesitate to seek qualified legal help – whether you are considering selling or buying, or have already begun the process. Our Real Estate Attorneys stand ready to help you. Call our Bronx office at 718-822-2203, or our Westchester office at 914-235-8500. You can also contact our Bronx & Westchester real estate attorneys online and request a consultation in our office today.
Source: