Early Warning Signs That Nursing Home Care Is Needed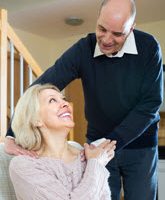 Many of us can appreciate when an aging loved one is resistant to the idea of entering a nursing home or assisted care facility. We understand their desire to provide for themselves while remaining in familiar surroundings, but there does come a point that more comprehensive care is needed to ensure their health and safety.
There are numerous factors to consider in making this type of life changing decision, not the least of which is paying for nursing home care. The following are early warning signs that indicate it may be time to begin exploring your options.
When Is It Time To Consider A Nursing Home?
Those who provide care for family members and loved ones are often resistant to the idea of placing them in a nursing home. While it is not something to rush into, the fact is that the Centers for Disease Control and Prevention reports more than 1.4 million older Americans currently reside in some type of assisted living facilities.
In addition to providing support for family members and addressing the resident's personal and social needs, nursing homes are better equipped to handle medical issues as they arise. With doctors, nurses, and other medical staff either on site or nearby, medications, medical devices, and chronic health issues can be better monitored, while medical emergencies can be dealt with swiftly when they arise.
Care Conversations, a resource for families with aging loved ones, recommends being observant for the early indications that more comprehensive care may be needed. Signs to watch out for in family members include:
Mental difficulties, such as increased confusion and forgetfulness, and ignoring obvious dangers, such as leaving the oven on;
Emotional and social difficulties, such as extreme irritability, depression and avoiding people and social interaction;
Physical problems; such as being unable to sleep, not eating, and having difficulty walking or moving around;
Medical issues, such as needing daily or weekly treatments and having to rely on medical equipment, such as oxygen.
Signs You Need Help Caring For A Loved One
In addition to signs in your loved one, Caregiver Conversations advises that there are early warning indicators either you or other caretakers need additional help. These include:
Feelings of exhaustion or feeling unable to meet responsibilities;
Anxiety and sleep difficulties;
Increased anger and frustration with the patient or with other family members;
More frequent physical illnesses, aches and pains, or showing signs of depression;
Fears about being able to care for or being alone with your loved one;
Getting defensive about their condition or your own reactions to it.
If you are showing any of the above signs, it is time to look at some of your alternatives. In addition to nursing home care, there are various home health care and support services available through Medicaid and local community organizations.
Our Medicaid and Nursing Home Attorneys Can Help
At Cavallo and Cavallo, we understand the challenges families face in caring for aging loved ones. As your neighborhood law firm, we can help guide you through your options and advise you on the ways you can get the help you need. Serving the Bronx and the surroundings areas, contact our Medicaid and nursing home attorneys today to request a consultation.
Resources:
cdc.gov/nchs/fastats/nursing-home-care.htm
careconversations.org/early-signs