Estate Planning for June Brides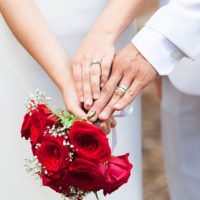 A principle of estate planning states that, whenever there is a new addition to your family, you should update your estate plan.  For example, if you wrote your will before you became a grandparent, you should update it to account for your grandchildren.  Do they inherit directly from you only if their parents predecease you, or will you designate a share of your estate just for them?  In so many ways, getting married late in life is much simpler than getting married when you are young.  When you get married after age 60, you and your spouse will not have to cooperate on the exhausting work of raising children or compete with your spouse's parents for your spouse's attention.  You just get to enjoy the best years of your lives together, when you are old enough not to worry about unimportant things or to let anyone boss you around.  It is still important to be honest with each other about money, though, even if being honest means saying, "It's none of your business how I spend the money in this bank account."  For help updating your estate plan to accommodate your late in life marriage, contact a Bronx estate planning lawyer.
How Does Late in Life Marriage Affect Your Estate Plan?
Everyone who gets married after correspondence from the AARP starts arriving falls into one of two categories; either you were previously a confirmed bachelor or bachelorette or you were previously married.  In either case, you should update your will, but if this is your second marriage, your task is somewhat more complicated than if it is your first.  Specifically, you must decide which property you want your spouse to inherit and which property you want your children from your first marriage to inherit.
For this reason, many seniors choose to sign prenuptial agreements, even if they are certain that they will stay together for the rest of their lives.  You should indicate which assets will be marital property and which will remain separate.  You and your spouse might even agree to waive the right to claim an elective share of each other's estate.  If you move into your spouse's house when you get married, does this mean that you get to inherit it?  In some cases, the best solution is to grant you a life estate.  This means that, if your spouse predeceases you, you get to live in the marital home for the rest of your life, but after you die, your spouse's descendants inherit the house.  If you anticipate a probate battle with your stepchildren, it might be a good idea for your spouse to set up a trust for you and a separate one for his children.
Schedule a Confidential Consultation With a Bronx Estate Planning Attorney
An estate planning lawyer can help you decide which changes you should make to your estate plan if you are getting remarried.  Contact Cavallo & Cavallo in the Bronx, New York to set up a consultation.