Financial Exploitation: A Common Problem Among Older Adults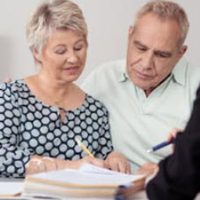 One of our recent posts involved neglect and abuse of older adults, focusing on physical acts of violence, verbal abuse, or intimidation. Unfortunately, there is another type of elder abuse that is common and often goes unreported: financial exploitation. As experienced Bronx & Westchester estate planning attorneys, we know that it can happen to people of all ages but older adults are among those most at risk.
Common Types of Financial Exploitation
Financial exploitation involves any type of lying, coercing, scheming, or scams designed to deny people of their money or property. While people of all ages can find themselves victims, there is no doubt that older adults are among those most at risk.
Unfortunately, they are also among those who have the most to lose, as thieves and scammers are likely to target paid-off homes, retirement income, and life savings. According to the National Adult Protective Services Association, common forms of financial exploitation include: 
Contractor fraud, in which unscrupulous companies fail to make paid for repairs or increase previously agreed upon prices.

Electronic scams, which involve robocalls, phishing e-mail messages, and ransomware.

Fraud, which involves people who generally misrepresent themselves or the situation. This includes large Ponzi schemes and more individual actions, such as well as forged checks, opening credit cards in the person's name, or falsifying bank documents.

Lottery scams, which often require a transfer of funds or bank information to collect the 'winnings'.

Mortgage scams, such as unaffordable refinancing plans designed to generate high commissions or the eventual seizure of the property.

Real estate theft and fraud, such as unauthorized sales, transfers or changes to property titles.

Criminal theft, which involves directly taking money or property from the victim without their knowledge or consent.
Warning Signs That a Loved One Is the Victim of Financial Exploitation
The National Institutes of Health (NIH), reports that financial exploitation has become a major social problem, resulting in losses of nearly $3 billion per year. Older adults are among those most at-risk. Age-related declines often make them more susceptible and they are frequently unfamiliar with the latest scams thieves employ. Once they do become victims, they may be too ashamed to tell loved ones or to admit their losses. Common signs that family members and friends should be on the alert for include:
Being unable to meet living expenses on what appears to be otherwise adequate income;
Receiving late notices for credit cards and bank loans;
Having gas, water, or other utilities terminated for non-payment;
Having a dwindling bank account, with numerous checks written to cash;
The unexplained disappearance of personal belongings and items around their home;
Changes in demeanor, such as increased anxiety or depression.
Let Us Help You Today
At Cavallo & Cavallo, we provide the professional legal representation needed to protect your assets and those of your loved ones from financial exploitation. Contact our New York estate planning and asset protection attorneys to request a consultation in our office today.
https://www.cavallolawyers.com/with-flu-season-approaching-put-advance-directives-in-place-now/