Hospice Care Is Not As Scary As You Think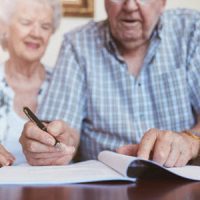 End-of-life care is an important part of everyone's estate plan.  If you have long-term care insurance, you are on the right track, and if you have stated your wishes in writing about allocating decision-making authority about your healthcare decisions to a relative or lawyer in the event that you become severely ill, you have already taken the most difficult step in your estate planning journey.  Until they get into the nuts and bolts of their estate plans, most people do not think very much about the differences among nursing homes, assisted living, and hospice care.  When most people hear the word "hospice," they associate it with terminal illness and death and decide not to think about it if they can avoid it.  The more you know about hospice care, the easier it is to see how it fits into your estate plan.  A Bronx estate planning lawyer can help you make decisions and state your wishes about hospice care and other aspects of end-of-life care.
Who Is Eligible for Hospice Care?
Hospice care is for terminally ill patients, defined as those who are not expected to survive their illnesses.  It is a form of palliative care, which is any kind of medical treatment where the goal is to manage symptoms without attempting to cure the disease.  (Palliative care is not just for terminally ill people; many patients with chronic illnesses with a prognosis of decades of survival time undergo palliative care because they cannot or do not wish to cure their diseases.)
When a patient begins hospice care, a doctor and nurses supervise the management of the patient's symptoms, and social workers provide guidance and emotional support for the family.  Even though the word "hospice" originally referred to a hospital or hostel, modern hospice care can take place almost anywhere.  Some patients receive hospice care in nursing homes, while others receive it at home.  There are even a few hospice care facilities designed specifically for that purpose.
How Affordable Is Hospice Care?
Medicare pays for hospice care if doctors have indicated in the patient's medical records that they expect the patient to survive six months or less and if the patient is not receiving any treatments to attempt a cure.  Some patients survive much longer than originally expected, spending a year or more in hospice care, and some go in and out of hospice care several times as the severity of their disease fluctuates and they change their minds about which treatments they want to receive.  Long-term care insurance also pays for hospice care.  In other words, medical expenses can deplete your estate substantially, but hospice care is not usually the reason for this.
Schedule a Confidential Consultation With a Bronx Estate Planning Attorney
An estate planning lawyer can help you take a realistic view of medical expenses and end-of life care and plan for them accordingly.  Contact Cavallo & Cavallo in the Bronx, New York to set up a consultation.
Source:
cancer.org/treatment/end-of-life-care/hospice-care/what-is-hospice-care.html