New York Octogenarian Loses Life's Savings In Romance Scam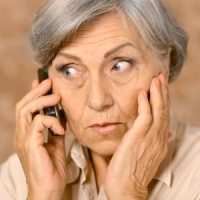 Unwise financial decisions are often an early sign of dementia in the elderly, but even healthy seniors are more vulnerable to romance scams than the general population.  When seniors are lonely, their days on earth are numbered, and their families are far away, thousands of dollars seems like a small price to pay for companionship and friendship, even if the friend is in another state or another country and only communicates with you online.  Don't wait until your elderly parent falls victim to a romance scam before you sign a power of attorney.  It is painful to think about your parent no longer being able to make financial decisions or falling victim to financial abuse.  By waiting to make a plan, though, you only put your family at greater risk.  Acknowledging your elderly parent's vulnerability to financial abuse is the first step to preventing this abuse from happening.  A Bronx estate planning lawyer can help you take the appropriate measures.
Court Orders Romance Scammer to Pay Restitution to Elderly Victim
The victim of a romance scam that recently resulted in a guilty plea in a federal court in New York had become financially successful against all odds.  He was a Holocaust survivor who settled in New York and amassed a fortune of approximately $3 million.  The trouble began when he met a woman who called herself April on a dating site in early 2017.  April said that she had suffered a serious injury and filed a personal injury lawsuit.  She claimed that the case had settled, and that the defendant had paid the settlement money to the law firm that represented her, but that the law firm was refusing to give her the payout until she paid the bills that she owed to the law firm.  The victim sent her a check for $25,000 to resolve matters with the law firm, but it wasn't long before April asked the victim for more money to get her through another financial hardship.
Four years and 62 checks later, the victim had lost his life's savings and his condominium.  In 2021, the victim told his son about April and all the money he had sent her over the years.  The son called the police.  In 2023, April, who lives in Florida and whose real name is Peaches, pleaded guilty to wire fraud.  The court ordered her to pay $2.8 million in restitution to the victim.  It also ordered her to forfeit the assets she had bought with the victim's money, including a house in a gated community, two cars, and an assortment of jewelry, watches, and clothing.  She could face a prison sentence of up to 20 years.
Schedule a Confidential Consultation With a Bronx Estate Planning Attorney
An estate planning lawyer can help you protect your elderly family members from Internet romance scams and other forms of financial abuse.  Contact Cavallo & Cavallo in the Bronx, New York to set up a consultation.
Sources:
justice.gov/usao-sdny/pr/florida-woman-pleads-guilty-defrauding-holocaust-survivor-28-million-connection-romance
lawandcrime.com/crime/woman-admits-to-cheating-87-year-old-holocaust-survivor-out-of-2-8-million-life-savings-to-fund-her-life-of-luxury-in-sick-and-sad-romance-scam-feds/