Home
>
Blog
>
Estate Planning
>
Talking To Your Parents About Their Estate Plan Is Even More Awkward When You All Live Under The Same Roof
Talking To Your Parents About Their Estate Plan Is Even More Awkward When You All Live Under The Same Roof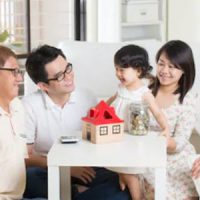 Making financial plans with someone while also living under the same roof with that person is one of life's great challenges.  One of the reasons that business partners can get along so easily is because, when the workday ends, they do not get to tell each other how much money to spend on groceries for their respective homes.  Married couples who have little conflict over finances often achieve this by drawing ironclad boundaries with the rest of their families; their in-laws know better than to ask about the couple's financial plans.  Meanwhile, multigenerational households are making a comeback in the United States, and living with your parents while raising your children can give you emotional support and create cherished memories.  Even in a generally harmonious environment of family togetherness, though, deciding how to pay for the life events that everyone dreads is a very uncomfortable subject for seniors to talk about with their adult children.  Disagreements over estate plans and elder care can lead to resentment and strain family relationships.  A Bronx estate planning lawyer can help you navigate this challenging situation.
It Is None of Your Business How Much Money Your Parents Leave to Your Siblings in Their Will
Multigenerational households can only function if all the adults recognize each other's autonomy as adults.  Living with micromanaging parents or in-laws is unbearable, and it is a unique kind of loneliness when your children criticize all your interactions with your grandchildren.  A household where critical comments flow freely is a miserable place.  You should keep some things to yourself, and in fact you have the right to keep your views to yourself when it comes to your will.  As long as witnesses attest to your signature on your will, the family members who live with you do not need to know your wishes about where you want to be buried or who inherits what.  The older generation should not constantly threaten to disinherit everyone who disagrees with them about anything.  The sandwich generation should also not try to pressure their elders into changing their wills; this is undue influence.
Your Parents' Long-Term Care Is Your Business
When it comes to long-term care, your parents' plans are your business.  If your parents do not have savings or long-term care insurance, then the responsibility of paying for their care, or reducing your work hours and income to do the caregiving work yourself, falls to you.  If your family needs to rely on Medicaid for nursing home care, then the whole family should work with an estate planning lawyer to ensure that the family does not risk losing the house through estate recovery.  In some cases, it may be advisable to title the house in the name of a member of the younger generation.
Schedule a Confidential Consultation With a Bronx Estate Planning Attorney
An estate planning lawyer can help you make realistic plans for aging in place in a multigenerational household.  Contact Cavallo & Cavallo in the Bronx, New York to set up a consultation.
Source:
kiplinger.com/retirement/caring-for-aging-parents-takes-planning-and-patience