When to Consider Buying Life Insurance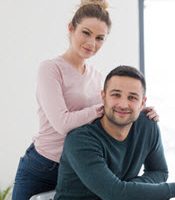 The goal of estate planning is to ensure you and your loved ones are provided for in case  of unexpected events. Regardless of your age or the current amount of assets you possess, there are some simple steps you can take now you can take to protect your future financial security. Depending on the circumstances, buying a life insurance policy can be a smart move. The following are five situations where having a policy may be a good option.
Five Situations When Life Insurance May Be a Smart Choice
When you buy a home: Purchasing a home is one of life's largest investments, and taking out a life insurance policy can be a way to ensure it is protected. It can help offset other types of mortgage insurance, while also ensuring your family has the money to cover maintenance, repairs, and utility costs.

When you have small children: Parents often feel the weight of providing for their children and wonder what would happen to them in the event of a sudden death. Once you name a legal guardian for your child in your will, a life insurance policy can help ensure costs associated with their daily care and future expenses are provided for.

When you have heavy outstanding debts: If you have a considerable amount of outstanding loans or tax debts, a life insurance policy can help ensure these amounts do not pass on to other family members or get deducted from your estate.

When you are a co-signer an adult child's student loans: If you have co-signed your child's student loans – or any other debts – you are responsible for these payments in the event anything ever happened to them. An insurance policy adds some extra protection.

When you want to secure an inheritance: While the conventional wisdom is that you will at some point outgrow the need for life insurance, the fact is that saving money is not always easy. Purchasing an insurance policy is one way to provide an inheritance for the people you care about or to support your favorite non-profit.
Choosing The Right Policy
The Insurance Information Institute (III) advises that there are two basic types of insurance policies and deciding which is right for you will depend on your situation:
Term Life Insurance: This is a good option for people on a budget. While these policies do not offer dividends, they allow you to buy the amount of coverage you need, for the time period you need it for.
Whole life insurance: More expensive than term life, a whole or permanent life policy has a savings element that you can borrow from and will cover you for as long as you live.
Let Us Help You with Your Case
At Cavallo & Cavallo, we can answer your questions and guide you in choosing life insurance or other estate planning options. To request a consultation in our Bronx or Westchester office, call or contact our New York estate planning attorneys online today.
Resource:
studentloanhero.com/personal-finance/insurance/student-loan-co-signer-life-insurance/
https://www.cavallolawyers.com/four-important-issues-to-raise-with-your-aging-parents/