5 Reasons A New York Landlord Might Need An Attorney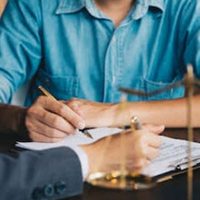 Unless you own a large real estate portfolio with millions in rental income generated each year, it is not likely you have an attorney on retainer to handle problematic issues that can arise for landlords in New York. Like running any business operation, you hope to earn revenue while minimizing unexpected costs and liabilities – financial or legal.
At times, despite your best efforts, the need to hire legal counsel will arise. Below are 5 common situations when a New York landlord might need to hire an attorney:
Evicting Tenants. There is no way around it: if you rent out units long enough, or rent to multiple tenants, you will need to terminate the lease and evict on certain occasions. This can be a complex process, especially if you are not accustomed to carrying out evictions. New York's rules on eviction require that the landlord proceed in court and obtain a judgment of possession. Landlords must then meet their burden of proof in court and argue their case if the tenant contests the eviction. Sometimes the tenant may hire an attorney of their own, which can extend the case and drive up time and costs involved. As a landlord, hiring a New York real estate attorney that is familiar with these proceedings can expedite the process for you.
Managing the Business Structure of Your Real Estate Holdings. Whether you own one rental property or several, you may find it advantageous to operate the building under some type of business organization. There can be certain tax advantages to this method, as well as protection from personal liability and other key advantages of forming an LLC for New York rental properties. An attorney with experience in this area can provide you with useful counsel to provide you with peace of mind and long-term financial benefits.
Audits by IRS, NY State Department of Taxation, or other Tax Issues. Audits are a fact of life for many New York landlords, but you can avoid these problems before the start with assistance from legal counsel while preparing tax documents. If you've already been notified of an audit, an attorney can help with that process as well.
Lawsuits and Complaints from Tenants or Third Parties. Unfortunately, another part of doing business as a landlord can involve defending against complaints or lawsuits regarding any of the following:
Illegal discrimination under New York's Fair Housing laws.
Personal injuries suffered by tenants or invitees of the property. This may be due to some alleged maintenance issue or safety hazard that was involved in a person's injury.
Illnesses suffered by tenants or guests due to alleged issues with exposure to mold, chemicals, or other substances on the property.
Defending against any of these allegations on your own is a risky proposition, exposing you to liability that could bankrupt your business entity. A wiser approach is to meet with an attorney to discuss the facts of your case and plan your next steps.
Property Damage and Insurance Issues. Property damage due to natural disasters, construction defects, vandalism, or other events covered under your insurance policy can create long-lasting – and expensive – headaches. This is especially true when dealing with an insurer that seeks to underpay your claim or deny it entirely. Having an attorney at your side when dealing with these issues can be crucial in most cases.
As you can see, there are numerous situations when a New York landlord may need to turn to an experienced and knowledgeable attorney to ward off complaints, investigations, or other issues that can damage your pocketbook and even expose you to liability.
Our New York Real Estate Attorneys Can Discuss These and Other Landlord Issues With You
Sometimes working things out on your own as a landlord can be more time-consuming and expensive than it is worth. This is where our attorneys come in. Our Bronx & Westchester real estate lawyers at Cavallo & Cavallo can review your issues and options and provide valuable counsel when the need arises. Reach out to us today for help.
Resource:
hcr.ny.gov/eviction