Aging In Place Can Be Prohibitively Expensive In New York City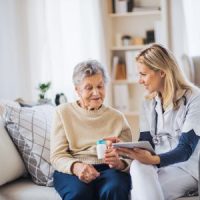 The fact that everything is expensive is old news for New Yorkers.  People from elsewhere sound hopelessly naïve when they are impressed by how much money you make, because your dollar does not go very far in the Big Apple.  A corned beef sandwich at a New York deli, with no sides other than a half sour pickle, cost nine dollars in 1996, but it now costs at least double that amount.  One thing you can count on, though, is that the price of a corned beef sandwich in New York will always be enough to buy you a steak dinner, with sides, drinks, tax, and tip in the Midwest.  It follows, then, that housing in New York is more expensive; could the musical Rent have believably been set anywhere else?  Therefore, the generic advice about how cheap it is to age in place also rings hollow in New York.  A Bronx estate planning lawyer can help you make aging in place affordable, or else help you find a more affordable alternative.
There's a Reason for the Stereotype About New Yorkers Retiring to Florida
Aging in place is where, after you retire, you continue living in the same house or condominium where you lived while you were working.  On the surface, it seems like the least expensive option, especially if you own your home free and clear or are close to paying off the mortgage.  Of course, aging in place almost always requires making modifications to your home to accommodate your changing mobility needs.  These can include anything from railings on the walls to benches in the shower to couches and chairs that are easier to get on and off of, or even moving your bedroom and bathroom to the main floor.
Most houses and condos in New York City do not have a senior-friendly layout.  The oldest and most charming of them have steps up to the front, steep staircases inside, and narrow hallways connecting rooms at odd angles to each other.  In some cases, it would take hundreds of thousands of dollars of renovations to make them accessible.  Some of these require modifications to the exterior of the building, which requires permission from local officials.
In situations like these, it is easier to move to an area where senior friendly housing is more widely available.  The houses best suited to the climate of the Sun Belt, one-story houses with flat entrance ways and wide hallways, are also the best suited to seniors.  If you can't stand to be too far away from New York, you might consider moving out to the suburbs or even to one of New York's famous assisted living facilities that go out of their way to feel like the high-rise apartment buildings that New York's Baby Boomers inhabited in their younger years.
Schedule a Confidential Consultation With a Bronx Estate Planning Attorney
An estate planning lawyer can help you decide whether aging in place in the Bronx makes economic sense.  Contact Cavallo & Cavallo in the Bronx, New York to set up a consultation.
Source:
davidcravit.substack.com/p/the-biggest-barrier-to-aging-in-place