Buying A Home As An Unmarried Couple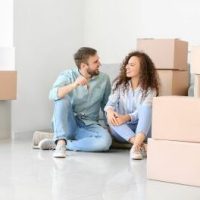 Buying a home continues to be a worthwhile investment. It offers a sense of security in having a place to actually call your own while building equity, rather than simply paying rent. However, for an unmarried couple, there are legal issues you need to be aware of.
Questions To Ask Yourself If You Are Unmarried and Thinking Of Buying A Home 
There are a number of reasons that couples may opt to live together rather than actually getting married. While you should not feel pressured to tie the knot, you do need to be aware of potential issues that can arise if you eventually decide to buy a home. A November 2021 Bankrate report advises asking some important questions, which include:
What should we include in our property agreement? Important issues concern how you want the property titled, what percentage of the home each party owns, who is financially responsible for paying bills, and what you will do in the event you decide to split up.

How will we work a mortgage? You can still obtain a mortgage together despite being unmarried but if you or your partner have poor credit, it could impact the approval process and potentially result in a higher interest rate. It also creates additional complications-and risks-in the event the relationship does not work out or if something happens to either of you.

What are the tax ramifications? Since you are unmarried, you will be unable to file taxes together. Consider who will take the home and any improvements made over the years as a tax credit.
Titling a Home As An Unmarried Couple and Estate Planning Considerations
A recent CNBC report advises unmarried couples who are purchasing a home to plan ahead for 'worst case' scenarios, such as in the event of a breakup or if something happens to either of you. One of the biggest concerns is how the home is titled. You have several options:
The title is kept in one partner's name: This presents the easiest option in terms of legal complications due to a breakup, but it also leaves the person whose name is not on the title vulnerable.
Tenants in common: This allows each of you to have a divisible interest in the property based on the percentage of ownership, which may correspond to how much you paid as a down payment.
Joint tenants: This can be used in cases where you both own an equal share of the home and can even dictate rights of survivorship.
In all of these scenarios, you want to have a will and other estate planning documents in place. This can provide important protections you would otherwise not have due to being unmarried.
Contact Us Today for Help
Considering buying a home? Reach out to Cavallo & Cavallo for the trusted legal guidance you need. To discuss your options, call or contact our Bronx & Westchester real estate attorneys online and request a consultation in our office today.
Resource:
cnbc.com/2021/11/05/buying-a-home-unmarried-what-to-know-before-signing-the-deed.html