Direct Nursing Care in Nursing Homes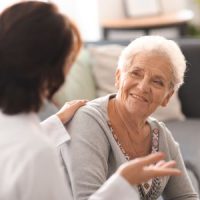 Many seniors will spend time in a nursing home at some point.  It may be a brief stay, while you recover from surgery, after which you go back home to continue aging in place.  Some people reside in nursing homes for years because their health needs require the care of multiple nurses.  The early stages of estate planning should focus on your wishes for your retirement years, but eventually, you will need to make plans for long-term care.  This could include home health aide visits, nursing home care, residence in an assisted living facility, or some combination of these.  When you choose a nursing home, you should communicate extensively with the staff before you make your decision, so you can be sure that you will get adequate care.  The first step is to understand the nursing home staffing requirements in New York state and the services that each member of the nursing care staff provides.  A Bronx estate planning lawyer can help you make plans for long-term care as part of the estate planning process.
Nursing Home Residents Interact With Several Caregivers Each Day
In any nursing home, different members of the nursing care staff have different tasks related to patient care.  Therefore, when the law says that you are entitled to receive a certain amount of direct care each day, it means that the caregiving responsibilities will be divided among several employees.  These are the positions held by members of the nursing care staff in a nursing home:
Certified nursing assistants (CNAs) – Nursing home residents spend more time interacting with CNAs than with any other staff members. CNAs assist residents with activities of daily living, such as eating meals, changing clothes, walking or getting into a wheelchair, bathing, using the toilet, or personal hygiene tasks such as combining their hair or brushing their teeth.  CNAs may also take residents' blood pressure when appropriate.
Licensed practical nurses (LPNs) – LPNs must pass a nationwide certification exam before taking on this role. Their duties in a nursing home include administering medications and changing patients' catheters.
Registered nurses (RNs) – RNs also hold nationwide certification. Unlike LPNs, they can administer intravenous medication.  Much of their work in nursing homes involves supervising the LPNs and CNAs and making plans for patient care.
How Much Direct Care Do Nursing Home Residents Receive?
New York law requires that enough CNAs, LPNs, and RNs be present at the nursing home during each shift so that each resident can receive at least 3.5 hours of direct care per day.  CNAs must provide at least 2.2 hours of care per day, and licensed nurses (LPNs or RNs) must provide at least 1.1 hours.  The other 0.2 hours of care can come from any member of the nursing staff.  Nursing homes can be subject to fines for not meeting staffing requirements, but understaffing remains a widespread problem.
Schedule a Confidential Consultation With a Bronx Estate Planning Attorney
An estate planning lawyer can help you with nursing home planning and long-term care planning.  Contact Cavallo & Cavallo in the Bronx, New York to set up a consultation.
Sources:
allnursingschools.com/articles/registered-nurse-vs-licensed-practical-nurse/
practicalnursing.org/lpn-vs-cna
health.ny.gov/facilities/nursing/minimum_staffing/