Disinheriting an Adult Child from Your Will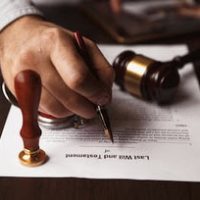 Relationships between parents and children are often complex. Family dysfunction and years of drama can take a toll on these relationships. In estate planning, it is not uncommon for a parent to consider disinheriting their adult child. Before making any declarations regarding your intent or taking any drastic actions, it is important to consider your goals and the repercussions that could result.
Reasons Parents May Want To Disinherit Children 
For most people, there is a strong desire to leave something behind for their families and to provide for them in case of unexpected events. While leaving property and assets to children is often a top concern, there are circumstances in which a parent may opt to disinherit an adult.
Without a legally valid will in place, children have automatic right to an inheritance through the law of intestate succession, which are administered through New York Probate Court proceedings. The only way from preventing your adult child from claiming a rightful portion of your estate is by excluding them from your will. Reasons why parents opt to disinherit adult children are often emotional in nature and include:
Having a contentious or otherwise poor relationship over the years;
Feeling hurt or abandoned by the adult child's actions and wanting to 'get back' at them;
Having concerns about the lifestyle the adult child lives or who they marry;
Feeling that they should have to make their own way in life, rather than having you provide for them.
The choice to disinherit an adult child should never be made on a whim and you should carefully consider all of the consequences. In addition to creating a rift between you and them that can never be mended, if can cause conflicts between the child and other family members. It can also put your own character in doubt and cloud the way you are remembered. The good news is that there are options you can employ to help address some of the above issues.
Alternatives to a Disinheritance
In many cases, a trust may be a better tool for controlling an adult child's inheritance. Through it, you can control how money is distributed, such as parceling it out in monthly or yearly payments  You can also put conditions on disbursements, such as requiring the child to go to rehab or get a job before being eligible to receive property and assets.
If you are determined to disinherit a child, make sure your will clearly states your intentions. Under New York Surrogate's Court laws, an adult child could still contest the will, claiming that it is invalid or signed under fraud or duress. This could result in lengthy probate court proceedings,  which will cost your loved ones time and additional fees.
Let Us Help You Today
To discuss your options in creating a will and the steps needed to protect your loved ones, Reach out to Cavallo & Cavallo. To schedule a consultation in our Bronx or Westchester office, call or contact our New York estate planning attorneys online today.
https://www.cavallolawyers.com/important-questions-to-ask-yourself-about-estate-planning/