Estate Planning And Asset Protection For College Students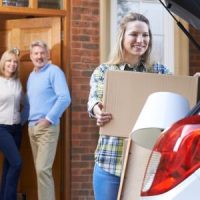 As summer winds down, parents are busy considering back-to-school plans for their children. If yours are college age, preparations have likely been taking place for the better part of a year. Now that the time is almost here for them to pack important items needed for dorm life, there are some important estate planning and asset protection tasks you need to attend to before they head off on their own.
Why Do College Students Need Estate Planning?
As your college-age child still likely looks to you to provide for their care, it is natural to wonder why they need estate planning. The fact is that they may still have valuable items in their names, such as cars, recreational equipment, collectible items, and money in various savings accounts. Having them create a will allows for a complete inventory of these belongings and dictates how they, as well as sentimental items they possess, will be distributed in the event anything happens to them.
Considering the fact that they are young and healthy, a will is an important precaution but someone they will likely not need. Advance directives are more likely to be of immediate use. These protect them in the event an accidental injury or illness leaves them incapacitated. The New York Attorney General's Office advises residents of all ages to have the following documents in place:
A health care proxy form, granting you the authority to act as their agent in regards to their medical care;
A living will, conveying their wishes in the event of a life-threatening or incapacitating condition;
A Do Not Resuscitate (DNR) order, dictating how to handle situations in which their heart stops beating or their lungs cease to function;
A MOLST (Medical Orders For Life-Sustaining Treatment) form, specifying their wishes regarding life support, ventilators, feeding tubes, and other interventions.
In addition to advance directives, Powers of Attorney documents can allow you to handle their finances and other business in the event they are unable to themselves.
Asset Protection Strategies For College Students
In addition to protecting your college-age student against unexpected events that could happen to them, you will want to take steps to ensure they are provided for if anything happens to you. Along with having a will and your own advance directives in place, creating a trust can help ensure any money or property you leave to them is handled properly.
Bankrate provides a college trust fund calculation, which provides an estimate of the amount your child is likely to need to complete their education. Putting other assets they would inherit into a trust allows you to dictate how these are used and when distributions should be made.
Contact Us Today for Help
At Cavallo & Cavallo, we help you protect college-age children against unexpected events. To request a consultation in our office, give us a call or contact our Bronx & Westchester estate planning attorneys online today.
Resource:
bankrate.com/calculators/savings/saving-for-college-calculator.aspx