Estate Planning For Special Needs Children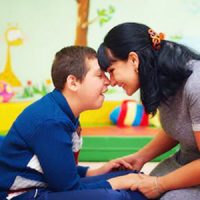 Having an estate plan helps to ensure both you and those you love are prepared in the event the unexpected happens. This is important for parents, particularly those with special needs children. Whether they are minors or legal adults, protecting their best interests and providing for them in the years to come is a top priority. Our Bronx & Westchester estate planning attorneys highlight some important areas you will want to address.
Ensuring Special Needs Children Are Financially Secure 
According to the U.S. Census Bureau, roughly three million children, or close to five percent of all people under the age of 18, are considered disabled. Estate planning documents are important for anyone, but even more so in these cases.
In addition to ensuring they have a legally valid and updated will, parents of special needs children should consider establishing a trust. This transfers property and assets to a third party or trustee, who is obligated to act in your best interests. Among the benefits a trust provides special needs children include:
Maintains eligibility for public benefits: Medical and long term care costs for special needs children can quickly wipe out your life savings. Public benefits play an important role in providing for their needs and a trust helps to ensure their current and continued eligibility.

Allows you to make periodic distributions: Whereas a will would provide access to an inheritance in one lump sum, a trust allows you to make periodic distributions, ensuring a steady source of income for the future.

Allows you to specify what distributions should be made for: A trust allows you to allocate money for basic living expenses, education costs, rehabilitation, and recreational activities. It also allows for distributions on specific life events, such as graduations or marriages.
Other Important Estate Planning Documents For Parents of Special Needs Children
In addition to establishing a trust, there are other important estate planning documents that can help parents protect special needs children. These include:
Power of attorney: Just as your trustee manages assets and distributions of a trust and is required to act in the best interests of those involved, you can designate a power of attorney to ensure your business and financial affairs are handled properly.

Health care power of attorney: This names someone you trust to make important medical decisions on your behalf, sparing your special needs child from this burden.

Living will and other advance directives: The New York Department of Health advises all residents to have advance directives in place. These dictate your wishes regarding end of life care and spares loved ones from having to guess what you would have wanted.
Let Us Help You Today
At Cavallo & Cavallo, we provide parents with peace of mind by putting the proper estate planning documents in place to protect their special needs children. To discuss your options, call or contact our New York estate planning attorneys online and request a consultation in our Bronx or Westchester office today.