Advance Care Planning: What It Is And Why It Is Important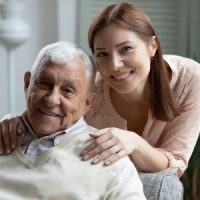 As you get older, serious illnesses and chronic medical conditions are more likely to cause issues.. Advance planning now in regards to Medicaid and nursing home care can help to ensure that in this situation, you, your assets, and your family members are all protected.
What Is Advance Care Planning? 
Advance care planning involves anticipating potential future needs and taking the steps now both to convey your wishes and to ensure future costs are paid. According to the Centers for Disease Control and Prevention (CDC), it is one of the most important things you can do for yourself and those you love. Unfortunately, only an estimated 30 percent of all older adults have an advanced care plan in place.
Chronic health conditions, such as diabetes, heart disease, arthritis, and respiratory issues,  typically worsen with age. These, along with common diseases caused by hereditary or other factors, such as cancer, leukemia, or dementia, can eventually cause you to require more in-depth types of medical care. Advance planning helps to address issues that are likely to arise as a result. These include:
Who will take care of you if you are unable to care for yourself?
At what point should nursing homes or other types of long term care be considered?
How will you pay for any long term care or at-home health services required?
What community resources are available?
What medical interventions do you desire, i.e. ventilators, feeding tubes, etc.?
Do you want to die a 'natural death' and to what extent do you want medical providers to perform life-sustaining treatments?
These are serious issues older adults and their family members face each day. Without advance care planning, your family is put in the difficult position of having to guess what you might have wanted while your life savings is quickly depleted.
Creating An Advanced Care Plan
The Administration For Community Living advises that advance care planning allows you to make important decisions now regarding future medical issues you are likely to face. Discussing potential future needs with loved ones, determining the resources available, and making plans to cover future costs is all part of the process. Our estate planning attorney can help in putting the following legal documents in place:
General power of attorney, authorizing someone you trust to manage your affairs in the event you are unable to do so.
Health care power of attorney, authorizing someone to make important medical decisions on your behalf if you are incapacitated;
Living will, dictating medical interventions and end-of-life issues;
Medicaid trust, which allows you to qualify for Medicaid, providing access to community services and offsetting high nursing home care costs.
Contact an Attorney for Help
When it comes to advanced care planning, Cavallo & Cavallo is here to help. To get trusted legal guidance, call or contact our Bronx & Westchester Medicaid & nursing home attorneys online and request a consultation in our office today.