How (And When) To Choose A Nursing Home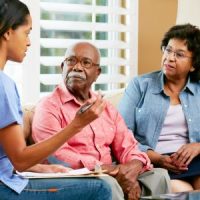 Long term care needs have skyrocketed throughout the U.S. Finding high quality nursing home care that meets your personal requirements and protects your dignity is a top priority. Whether you are looking for yourself or someone you love, the time to begin your search is now. Find out what to look for in choosing a nursing home and important factors to consider.
Assessing The Need For Nursing Home Care 
Nursing homes provide a variety of both personal and health services to people who are otherwise unable to live on their own. A patient may be transferred to a long term care facility after being hospitalized for other medical conditions or they may move from their own home after months of planning.
According to the Centers For Disease Control and Prevention (CDC), more than 1.3 million people currently reside in nursing homes and, with an aging population, this number is expected to increase in coming years. In assessing the need for nursing home care for either yourself or an older loved one, factors to consider include:
Your current health, your family medical history, and any chronic conditions you suffer from;
Your support system, which includes family, friends, and community services in your area;
Your current and likely future needs in terms of personal care, medical attention, and socialization;
Your current living environment and how well it can be adapted for aging in place.
For older adults who live on their own, who have declining health and/or mobility issues, and whose current residence may be too hard to navigate or maintain in the future, the time to begin looking for a nursing home is now.
What To Look For In A Nursing Home
The National Institute On Aging (NIA) offers tips on how to find the right nursing home, whether you are looking for yourself or a loved one. Things to look for include:
General environment: Consider the nursing home location, the type of dwelling, and the accommodations offered.
Specialized care: Determine whether you will need specialized services, such as physical therapy or memory care.
Add-on services: Day trips, visits to local restaurants, on-site beauty salons, and other options are all add-on services some nursing homes provide.
Reputation and appearance: Look for a nursing home that has a solid reputation in the community and among health care providers. Also, make a point of visiting and observing the sights, smells, and overall contentment of residents.
Cost: According to the New York Department of Financial Services, nursing homes in our area can cost upwards of $300 per day. Medicaid planning now can help to offset these expenses.
Contact an Attorney for Help
At Cavallo & Cavallo, we provide the trusted guidance you need when assessing the need for nursing home care and reviewing the options available. To request a consultation in our Bronx or Westchester office, call or contact our Bronx & Westchester Medicaid & nursing home attorneys online today.
Resource:
nia.nih.gov/health/how-choose-nursing-home