Where Have All The Nursing Homes Gone?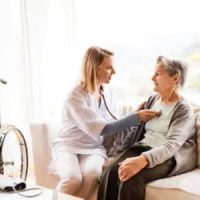 Do you dream of retiring to a quiet town in the Sun Belt, where there are more wading birds than humans within walking distance of your house?  Would you prefer to stay in the same house where you have lived since birth, in the town where your family has lived for generations?  Both of these seem like affordable options on the surface, and they might work, as long as you account for long-term care.  You should buy long-term care insurance or hybrid life insurance if you can afford it.  Aging in place when you have plenty of family members nearby is also affordable, but at some point, you will need skilled nursing care.  Nursing home planning is not one of the most fun parts of estate planning, but it is an essential component, nonetheless.  All aspects of your estate plan are subject to revision, including your nursing home plans.  A Bronx Medicaid and nursing home attorney can help you determine your nursing home care options in the place you have chosen for your retirement.
Nursing Homes Disappearing From Rural Areas
According to Tony Leys of Kaiser Health News, nursing home beds are becoming increasingly scarce at a time when patients need them the most.  The problem is the most acute in rural areas, where there are relatively few adults of working age compared to the number of retirees.  Working in a nursing home is a stressful job even in the best of circumstances, but the COVID-19 pandemic made the already difficult task of nursing home staff even more difficult.  Rural nursing homes are struggling to replace workers who have quit; this is in part because there are fewer job applicants and also because the nursing homes no longer receive the public funds they received during the COVID-19 emergency.  The result is that many rural nursing homes have reduced their capacity, and some have closed, leaving the counties they served with no nursing homes at all.
When a nursing home closes, its residents and their families must make other plans.  In some cases, people who once resided in nursing homes where their spouses and children could walk to visit them every day were forced to move to the next county, where their families must drive more than an hour to visit them.  A similar situation is unlikely to happen in the Bronx, but New Yorkers would still be wise to heed the cautionary tale.  The nursing home you planned to rely on may or may not still be there when you need it.  The least you can do is to check its website every year to make sure it still exists.
Schedule a Confidential Consultation With a Bronx Estate Planning Attorney
Even in the most detailed estate plan, nothing is set in stone, and your estate plan will need updates.  An estate planning lawyer can help you take a realistic view of nursing home planning.  Contact Cavallo & Cavallo in the Bronx, New York to set up a consultation.
Source:
nbcnews.com/health/aging/nursing-homes-small-towns-closing-staff-shortages-rcna66779