Five Things You Can Do Now to Plan for Retirement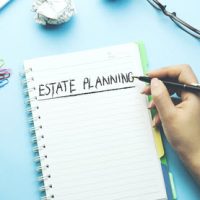 When you are young, healthy, and busy raising a family, thinking about retirement or an estate plan is likely to be the last thing on your mind. Even if you contribute to an employer sponsored 401k or have a job that offers pension benefits, there is the possibility that the amount will not be enough to cover your costs. Rising expenses and unexpected events can quickly gnaw away at these funds, leaving you unable to provide for yourself or your loved ones. The following outlines five things you can do now to help avoid future dilemmas:
Start saving.
According to a recent BankRate survey, roughly one fifth of all Americans are not actively investing in savings accounts, despite a strong economy. Of those who do, nearly half are not saving enough. Ideally, financial experts advise that you should be putting at least 10 percent of your take home pay into an interest bearing savings or retirement account.
Curtail spending and pay off debts.
One of the biggest impediments to building a healthy savings is out of control spending and an excessive amount of debt. While there is nothing wrong with using your credit to finance the things you need or want, you want to do your best to keep balances low and to pay it off as soon as possible. Particularly with credit cards, maxing them out and making only minimum payments will leave you paying considerable amounts in interest, without making a dent in the actual principal owed.
Acknowledge the potential for disabilities.
While none of us anticipate accidents or illnesses that could prevent us from working or providing for our families, the fact is that you need to prepare in the event the unexpected occurs. According to the Centers for Disease Control and Prevention, nearly 25 percent of American either suffer or will suffer a disability at some point in their lives.  Disability and long term care insurance is often a good investment.
Be realistic about Social Security benefits.
While Social Security benefits can provide a safety net to meet future retirement costs and expenses, it is important to be realistic about the actual amount you are likely to receive. The Department of Labor advises checking your yearly statements or contacting the SSA office to determine how long you need to work and how much additional money you will need to save.
Have the proper documents in place.
Sound financial planning for retirement is all about preparing for the unexpected. Make sure you have the proper estate planning documents in place. This includes creating a will, naming someone to act as your legal and health care your power of attorney, and having advance directives in place.
Contact Us Today for Help
For professional legal guidance on ways you can protect yourself and your loved ones now and in the years to come, contact Cavallo & Cavallo and request a consultation in our Bronx or Westchester office with our New York estate planning attorneys today.
Resources:
bankrate.com/banking/savings/financial-security-0318/
dol.gov/sites/default/files/ebsa/about-ebsa/our-activities/resource-center/publications/top-10-ways-to-prepare-for-retirement.pdf