Home Holiday Preparations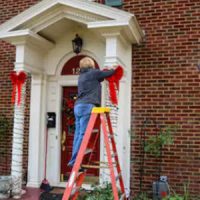 Getting caught up in planning for coming events can be a great deal of fun, but it is important to put safety first. In addition to protecting your loved ones, you also want to protect your investment in your home and avoid potential liability. The following are some simple tips which can help you start the season on the right foot.
Preventing Accidents and Avoiding Liability
Part of the fun of owning a home is decorating for the holidays and planning get togethers with loved ones. To protect yourself and your guests, your first step in anticipation of the season should be going through your property and addressing any potential safety concerns. In addition to increasing your accident risks, not doing so could leave you liable in the event injuries occur.
Do an inspection of your property and make a note of any repairs that are needed both inside and out. This involves repairing loose paving stones, cutting down low hanging branches, and making sure outdoor walkways are thoroughly lit, as well as indoor tasks such as replacing worn carpeting, using anti-skid mats, and getting rid of clutter on the floor. These types of repairs need to be done before the first decoration goes up.
Once you have addressed any safety issues, take a slow and thoughtful approach when it comes to decorating. According to Today's Homeowner, more than 8,000 people suffer serious injuries as a result of holiday decorating. To prevent accidents and injuries, follow these tips:
Make sure holiday lights are undamaged, with no wiring exposed before plugging in. Be careful with extension cords and do not to overload outlets.
If you are decorating your fireplace mantel, make sure the chimney is cleaned first that nothing is hanging too close to the hearth.
If you are using candles, make sure they are on stable surfaces and away from draperies, books, or other items which could ignite.
Use extra caution when using foot stools and ladders to hang decorations. Double check to ensure it is steady, avoid overreaching, and have someone nearby providing support.
Protecting Your Home
In addition to preventing injuries and protecting yourself against liability, take some extra precautions to prevent losses due to theft. Criminals get desperate at this time of year and break ins are common. Safewise advises following these tips:
Avoid storing gifts in your car.
Keep wrapped packages away from windows, where they could be seen by potential thieves.
Avoid posting online about any travel plans you have.
Consider putting indoor and outdoor lighting on a timer.
Pick a trusted friend or neighbor to check on your home while you are away.
Let Us Help You Today
At Cavallo & Cavallo, we are dedicated to helping you protect your most important assets. To discuss the various strategies available, contact our Bronx & Westchester estate planning attorneys and request a consultation in our office today.
Resources:
safewise.com/blog/keep-home-safe-secure-holidays/
todayshomeowner.com/home-safety-tips-that-ensure-safe-holiday/
https://www.cavallolawyers.com/things-you-can-do-today-to-plan-for-the-future/