Include Family Caregiver Arrangements as Part of Your Estate Planning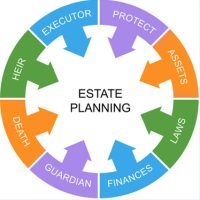 Families often avoid or put off discussions concerning estate planning and the potential future need for long term care arrangements for older parents and other loved ones. While these types of conversations may seem awkward, not addressing the issue can cause chaos and cost everyone involved significant amounts of money in the event the unexpected occurs. Discussing the topic now, clarifying your goals, identifying needs, and making sure you have all the appropriate information can help ensure you are prepared for any unforeseen circumstances in the years to come.
Creating a Caregiving Plan 
According to the American Association of Retired People (AARP), more than 30 million households provide care for an older family member or friend, and that as the baby boomer generation continues to get older, the need for adult caregiving will become as common as the need for child care.
Establishing a caregiving plan is vitally important, but talking to other family members about the future needs of older loved ones is often the most difficult part. Before bringing up the topic, consider these questions:
Who might be the best part to start off or lead the conversation?
What are your biggest concerns and priorities in establishing a caregiver plan?
What difficulties do you anticipate in starting this conversation?
How does your family and others closely related generally respond when difficult topics are discussed or brought up?
How can you convey how important it is to have this conversation?
In any discussions, is important to consider all viewpoints and to understand your parent's or other loved ones' goals to make a realistic plan that everyone will be comfortable with.
Issues to Address in Your Caregiving Plan 
The AARP advises that important areas to address when making caregiver plans include duties such as home and household maintenance, getting to and from doctor appointments, providing for personal care, and making sure financial affairs are attended to. In order to complete many of these tasks, you will need access to certain types of information and documents.
Time advises that the following items should be kept in a secure place, with the location shared among family members and those entrusted with handling estate matters:
Wills, trusts, and other estate planning documents, such as powers of attorney and living wills;
A list of all outstanding debts, including any mortgages and credit accounts;
A list of all financial accounts and investments, including account numbers and contact information;
All documents related to pension policies and retirement benefits;
Life insurance policies and any long term disability insurance the person has.
In addition to these documents, you will want to make sure you know where any property or vehicle titles are kept, as well as personal documents such as birth or marriage certificates, and military service discharge papers.
Contact Us Today for Help
When it comes to making plans for the future care and well being of your loved ones, Cavallo & Cavallo is here to help. Reach out and contact our New York estate planning attorneys to request a consultation in our Bronx or Westchester office today.
Resources:
assets.aarp.org/www.aarp.org_/articles/foundation/aa66r2_care.pdf
time.com/money/4300166/checklist-estate-planning-documents/