Laws That Protect New York Seniors From Fraud and Financial Abuse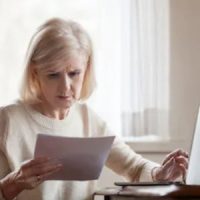 Elderly people represent a disproportionate share of victims of financial crimes such as fraud and theft.  The vulnerability of seniors to financial crime comes down to several reasons.  In some cases, the victim does not notice that the money is missing because the victim is in such poor health that he or she cannot keep an eye on his or her bank accounts.  Seniors suffering from memory impairment or cognitive decline may make poor financial decisions or easily believe the false claims of fraudsters.  If an elderly person suffers from mobility problems, vision loss, or other chronic health problems, it may be easy for a family member or professional caregiver to isolate the victim from others who care about him or her and intimidate or manipulate the victim into handing over large amounts of money.  New York law does not specifically classify financial exploitation of seniors as a separate criminal offense; by contrast, Florida categorizes it as a felony and imposes a sentence of up to 30 years in prison for people who intentionally cause an elderly person to suffer at least $50,000 in financial losses.  Despite this, New York has enacted several laws meant to protect seniors from financial abuse and financial crimes.  To find out more about protecting seniors from financial exploitation, contact a Bronx estate planning lawyer.
Which New York Laws Prevent and Remedy the Financial Exploitation of Elderly People?
These are some state laws that aim to prevent financial abuse of elderly people in New York:
Senate Bill S624 – In criminal cases involving victims with dementia and other mental disabilities, this law enables prosecutors to access victims' medical records to present evidence to the court about the victim's vulnerable mental state.
Senate Bill S639 – This law gives bank employees the right to refuse to complete a transaction if they suspect that the transaction is being requested due to fraud against an elderly person. It also provides guidelines for financial institutions regarding providing information to law enforcement during financial crime investigations.
Senate Bill S641 – For purposes of laws governing caregivers to the elderly, this law expands the definition of caregiver to include not only paid caregivers and family members, but also volunteers, court-appointed guardians, and agents in a power of attorney relationship.
Section 251 – This law categorizes elder fraud as a class A misdemeanor and imposes criminal penalties, including up to a year in jail, plus probation, fines, and restitution. People charged with elder fraud may also face additional charges in relation to their behavior toward the elderly victim and his or her property.
Schedule a Confidential Consultation With a Bronx Estate Planning Attorney
An estate planning lawyer can help you build your estate plan in a way that protects you from financial abuse and can help you recover your financial losses if you have been the victim of a scam or if a caregiver has been stealing from you.  Contact Cavallo & Cavallo in the Bronx, New York to set up a consultation.
Source:
nysenate.gov/legislation/laws/ELD/251