Planning For The Future: Our 7 Step Estate Planning Checklist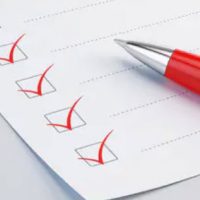 Advance planning acts as a roadmap for your future. You do this regularly in your career or personal life, as it can help you identify important objectives and reach your goals. Creating an estate plan is no different. It helps to protect you now and in the years to come while ensuring the needs of both you and your loved ones are provided for. Whether you are new to estate planning or need to update your existing documents, our 7 step checklist details important areas to cover.
Creating an Estate Plan
Estate planning is important, regardless of your age, health, or current financial status. It protects you in case of unexpected events, conveys your final wishes, and can ease the burden for your loved ones. To make estate planning easier, follow our 7 step checklist:
Create an inventory of all property and assets.
This should include homes, cars, personal belongings, and any financial accounts you possess. Even if certain property holds only sentimental value, you want to be sure it is distributed according to your wishes. Doing a personal inventory is the first step in creating a will, one of the most basic but important estate planning documents you need.
Choose someone to act as your personal representative.
Your personal representative files your will with the New York Probate Court and is in charge of settling your estate in the event of your passing. This includes paying any outstanding debts, filing final tax returns, and making distributions to beneficiaries. Pick someone you can trust who has the time and knowledge needed for this important task.
Review your beneficiaries.
Beneficiaries are those you wish to inherit from your estate and may include family, friends, non-profits, and pets. Update your beneficiaries regularly to account for births, marriages, divorces, and deaths.
Account for any special needs your family has.
If you have small children or a special needs adult you provide for, designate a guardian for them in your will and make sure they have the funds needed. You may also wish to consider putting life insurance in place.
Take steps to avoid probate.
One of the benefits of life insurance policies is that proceeds are not subject to probate court proceedings. Designating financial accounts as payable on death and creating a trust can also help you avoid probate.
Plan for the unexpected.
Advance directives convey your wishes in the event an injury or illness leaves you unable to communicate on your own. These include a health care power of attorney, living will, and Do Not Resuscitate (DNR) orders.
Consider your future needs.
In addition to helping you avoid time consuming and potentially costly probate court proceedings, creating a trust can help in Medicaid planning, ensuring any future nursing home costs are covered.
Contact an Attorney Today for Help
When it comes to estate planning, Cavallo & Cavallo provides the trusted legal guidance you need. Contact our Bronx & Westchester estate planning attorneys and request a consultation in our offices today.
https://www.cavallolawyers.com/protecting-your-social-security-benefits-in-the-event-you-become-incapacitated/