Power of Attorney: Two Estate Planning Documents Everyone Needs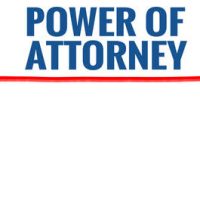 Regardless of your age, your physical health, or the amount of property and assets you own, there are certain estate planning documents everyone needs. At the top of the list is a properly drafted and executed will which instructs your surviving family members or friends on your final wishes and designates who you want to inherit any personal property or financial accounts you possess.
Equally important is to designate power of attorney, which allows others to make decisions on your behalf in the event you are unable to do so yourself. There are two types of power of attorney everyone needs: a durable power of attorney, which gives decision making authority over your finances and business interests, and a health care power of attorney, enabling someone to make important medical decisions for you in the event you are incapacitated.
Why You Need A Durable Power of Attorney
The New York State Bar Association advises that a power of attorney (POA) is an important legal document in which you, as the principal, grant authority to someone to act as your agent in spending money and buying, selling, or disposing of property. It does not diminish your own authority to make decisions in these matters, but rather provides if you are sick, injured, or otherwise incapable of making these types of decisions for yourself.
Your agent is required to act in your best interests, and must abide by any specific instructions you may have left regarding how property and assets should be handled. The types of decisions you may wish to grant authority over include:
Real estate transactions;
Banking transactions;
Buying, selling, or trading stocks and bonds;
Handling business operations;
Initiating legal claims and litigation;
Maintenance of friends and family members, such as being able to provide gifts or other assistance;
Dealing with government or retirement benefits;
Handling tax matters.
The authority granted through a durable POA may be revoked or changed by you at any time and expires upon death.
Why You Need A Healthcare Power of Attorney
In addition to a durable POA, it is also important to establish a healthcare power of attorney to make medical decisions on your behalf. Known as a healthcare proxy, the New York Department of Health advises that anyone over the age of 18 should have this document in the event of the following situations:
If you are temporarily unable to make healthcare decisions, such as in the event of an accident or if you are having surgery;
If you are permanently unable to make healthcare decisions, such as in the event of a terminal illness or severe injuries.
You can limit the amount of decision making power you grant to your agent, or specify that your healthcare POA only applies in certain situations. Similar to a durable POA, your agent is required to follow any advance instructions, and to act in your best interests.
Contact Our Estate Planning Attorneys
To find out more about POAs and other estate planning documents that are important at any age, call or contact the offices of Cavallo & Cavallo. As your neighborhood law firm, we can advise you on the documents needed in your specific case to ensure both your interests and assets are protected. Request a consultation in our Bronx or Westchester office today.
Resources:
nysba.org/WorkArea/DownloadAsset.aspx?id=22346
health.ny.gov/professionals/patients/health_care_proxy/