Protecting Yourself and Your Assets In the Event of Personal Injuries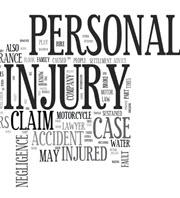 When accidents resulting in personal injuries occur, they can have a major impact on every area of your life. In addition to mounting medical expenses that can completely wipe out your savings and put you on the brink of bankruptcy, you may also be facing lost wages and permanent impairments that keep you from working in the future or even being able to provide for yourself. These types of injuries impact millions of people each year, and the following offers tips on how you can protect yourself.
Have the Proper Estate Planning Documents In Place
Accidents occur suddenly and when you least expect them. According to the Centers for Disease Control and Prevention, more than 36 million people end up seeking medical care as the result of accidental injuries each year. Motor vehicle-related accidents, such as car crashes and pedestrian or bicyclist injuries,slips and falls, medical malpractice and product liability cases are all unfortunately common. You cannot always prevent these types of accidents from occurring, but you can take steps to ensure you and your loved ones are protected.
Advance directives are common types of estate planning documents that provide clear instructions to your family and friends in the event you are injured and unable to communicate your wishes yourself. The New York Department of Health recommends having the following in place:
Health Care Proxy: This authorizes someone you trust to make medical decisions on your behalf;
Power of Attorney: This authorizes someone to access bank accounts and make financial decisions on your behalf;
Living Will: This provides instructions on the type of end of life care you want;
Do Not Resuscitate Order: This provides instructions for emergency care workers in the event you stop breathing or your heart stops beating.
In addition to the above, you also want to make sure you have a valid will in place. Regardless of the amount of property or assets you possess, a will helps your family avoid complicated and costly probate court proceedings.
Protecting Your Rights when Injuries Occur
In addition to having the proper estate planning documents in place, there are ways you can help ensure your rights to compensation are protected in the event an accident or injury occur. Follow these steps:
Report any type of accident to the proper authorities immediately. If you are injured in a motor vehicle accident, notify the police. If you suffer a slip and fall, notify security and the property owner.

Seek medical attention. Regardless of your symptoms, it is important to seek medical attention as soon as possible to protect your health and your rights in a claim.

Document everything. Whether you are injured in an accident or by the reckless actions of a doctor, product manufacturer, or some other party, document everything that occurs, including all of your expenses.
At Cavallo & Cavallo, our goal is to protect you against losses when the unexpected occurs. We are here to help, whether you need estate planning documents or in filing a personal injury claim. Call or contact our office online to request a consultation at our Bronx or Westchester office today.
Resources:
cdc.gov/nchs/fastats/accidental-injury.htm
nyc.gov/site/doh/health/health-topics/advanced-directives.page