Why You Need an Experienced Attorney to Help with Writing Your Will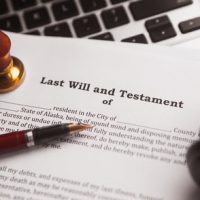 Having a valid will and other estate planning documents in place is important to protecting your loved ones and ensuring they are provided for. While no one enjoys contemplating their own mortality, it is important to recognize that not having one could cost your closest family members and friends both time and money in the long run, while creating enormous confusion over how you would have wanted your affairs handled.
According to the AARP, roughly 60 percent of all adults do not have a valid will in place. Even if you have created one in the past or have a handwritten will that you think will suffice, it is important to consult with an experienced New York estate planning attorney. The following are four important reasons why:
In order for your will to be considered valid in probate court, it must conform to legal requirements.
Your will is submitted to the New York Probate Court on your passing, and if it is not legally drafted and executed it will be declared invalid. This means your estate will spend extra time in probate proceedings, which could rob your beneficiaries of their intended inheritance while resulting in significant court costs. An experienced estate planning can help ensure your will conforms to legal requirements, avoiding potential issues in the future.
Without an experienced estate planning attorney to draft your will, the likelihood of costly mistakes increases.
Creating a valid will that addresses all of your assets and provides for beneficiaries while avoiding potential negative ramifications is a challenge for anyone who is not an experienced estate planning attorney. Even otherwise savvy professionals can make mistakes in drafting their will. U.S. News & World Report points to the case of the departed Supreme Court Judge Warren Burger. Even with his background, his will contained errors which cost his family hundreds of thousands of dollars.
Having an estate planning attorney can help make hard decisions.
When it comes to excluding certain people from your will, choosing one person over others to act as executor, or placing provisions on how money or property should be distributed, such as for an adult child with personal problems, your attorney can help in making difficult decisions. Many of the choices you make could have current and future ramifications, and having an impartial third party whose primary concern is your best interests helps.
While you are creating a will, you can also attend to other important estate planning matters.
By consulting with an experienced estate planning attorney in creating your will, we can also make sure other important issues are addressed. This includes asset protection strategies, Medicaid planning for to offset the likelihood of future disabilities, and making sure you have advance directives in place.
Let Us Help You with Your Case
Take the first steps in protecting yourself and your loved ones by reaching out to contact Cavallo & Cavallo today. Request a consultation in our Bronx or Westchester office to discuss your needs and how our experienced New York estate planning attorneys can assist you.
Resources:
aarp.org/money/investing/info-2017/half-of-adults-do-not-have-wills.html
money.usnews.com/money/personal-finance/articles/2014/09/19/10-steps-to-writing-a-will