What Are "NYSARC" Trusts And How Can They Help Me?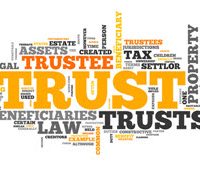 Many people count on SSI, Medicaid and other government benefit programs to meet their financial needs as they get older or suffer income instability and health issues. Another benefit option for New Yorkers is establishing a trust through NYSARC Trust Services. This can help keep a person with disabilities eligible for government benefit programs and services, while providing for life enhancing items not covered by those benefits.
NYSARC administers pooled supplemental needs trusts (SNT) that allow New York residents with disabilities and older adults with to spend down excess income or resources to gain financial eligibility (or preserve eligibility) for means-tested government benefits such as Medicaid and/or Supplemental Security Income (SSI).
Some goals of NYSARC Trusts include:
Protecting eligibility for benefits such as Medicaid and Supplemental Security Income (SSI)
Helping you or a loved one stay at home as long as possible
Helping to provide for quality of life expenses that improve living situations
Helping individuals maintain autonomy and freedom
Helping to integrate people with disabilities into their communities
The Arc uses pooled trusts to help people avoid the need to spend down funds quickly, or divert money toward unnecessary purchases in order to maintain eligibility for certain programs.
A pooled trust through the Arc program can help people protect resources such as:
Inheritance funds
Settlement proceeds or lump-sum payments
Proceeds from real estate sales
Retroactive benefit payments
Monetary gifts from family members
Pooled trusts can be useful for asset protection when individuals have a modest amount of money to protect that does not warrant an individual trust, or when they cannot find a suitable person to serve as trustee of an individual trust.
These can also be useful for people with certain medical needs that can use the help of a professional trustee that understands the ins and outs of government benefits.
When to Contact an Attorney to Discuss NYSARC Trusts
If you or your family are building an estate and asset protection plan, you may need to discuss options for future nursing home care and eligibility for Medicaid and other programs. A key part of the plan is figuring out how to achieve or maintain eligibility for benefit programs that can defray the costs of nursing home care or assisted living.
These issues are difficult to plan for without some baseline level of expertise. That's where the experienced New York attorneys at Cavallo & Cavallo come in. Through NYSARC trusts and other instruments, we address important issues of asset protection while making sure that you are able to access the appropriate level of care and treatment you may need.
Meet With One of Our Attorneys to Customize Your Estate Plan and Discuss Your Trust Options
At Cavallo & Cavallo, you can count on us to provide the trusted legal guidance you need to protect yourself and your loved ones in the years to come. Your situation is unique, and an experienced lawyer can guide you through the process. To discuss NYSARC Trusts and any other asset protection tools that may be available to you, call or contact our Bronx & Westchester estate planning attorneys online and request a consultation in our office today.