What Happens if You Die Without a Will?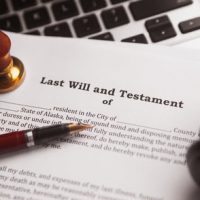 When Aretha Franklin passed in August 2018, the entire world mourned the passing of the Queen of Soul. Over the course of her decades spanning career, she amassed more than $80 million in assets. However, in the weeks following it was reported that she died without a will. Unfortunately, this is not uncommon and it is something our estate planning attorneys frequently warn clients about. What will happen to her estate? While the law varies depending on where you live, many of the procedures remain the same. The following provides a glimpse into the process if you pass away without a will in New York.
Sixty Percent of Americans Do Not Have a Will
Aretha Franklin is not the only celebrity to die without having a will. Business Insider reports that Pablo Picasso, Howard Hughes, and more recently Prince all passed away without a will or other important estate planning documents in place. As a result, final affairs can take years to resolve and the loved one you most want to inherit can end up being left with nothing.
Unfortunately, not having a will it not uncommon. According to the American Association of Retired People (AARP), more than 60 percent of the population does not have a legally valid last will and testament in place. Regardless of the amount of money you have, a will is important in that it provides valuable protections to your surviving family members while ensuring that any final wishes you have are respected.
The Ramifications of Not Having a Will in New York
Dying without a will is referred to as dying intestate. In the New York Probate Court, this means that rather than passing property and assets to your designated beneficiaries, state law determines how any distributions are eventually made. The following is a basic guideline:
If you pass with a spouse but no children, your spouse inherits everything.
If you have children but no spouse, the children inherit everything.
If you have a surviving spouse and children, the spouse is entitled to the first $50,000 and half of the total balance. The children inherit the rest.
If you have no spouse or children, your parents inherit everything.
If you have no spouse, children, and your parents are deceased, your siblings split your estate.
If one of your siblings is already deceased, their children get their share of the inheritance.
You can see how this allows no room for close friends and extended family members you may have been close to, nor does it allow you to donate any portion of your estate to worthy causes you may support. It can also create problems when there have been second and third marriages, or when you would opt to leave non-equal shares.
Reach Out to Us Today for Help
If you have not taken the time to create a will, Cavallo & Cavallo can help ensure you have this important document in place. Contact our New York estate planning attorneys and request a consultation in our Bronx or Westchester office today.
Resources:
businessinsider.com/what-happens-if-you-die-without-a-will-2018-8
aarp.org/money/investing/info-2017/half-of-adults-do-not-have-wills.html