What is a Guardianship and When Is It Needed?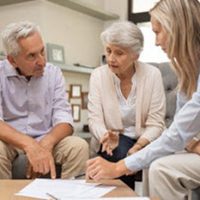 Caring for older adult loved ones can present unique challenges. In many cases, they either refuse to acknowledge or are not aware of their declining abilities to provide for themselves. This puts other relatives in the difficult position of having to make decisions on their behalf to protect their best interests. When there are too few estate planning documents in place, this task becomes even harder. Depending on the seriousness of the situation, you may need to consider guardianship proceedings. The following outlines what you need to know about the process and when it will most likely be needed.
New York Guardianship Proceedings
A guardianship is when one person is granted the legal right to make decisions on behalf of another. Guardianship proceedings are generally initiated through the New York Courts in three situations:
To provide for the care of a minor child, such as when the parents are deceased.
To provide for the care of a mentally disabled person.
To provide for an older adult who is incapacitated.
In regards to older adults, a guardianship is often used when family members determine that the person cannot safely provide for themselves. Once a guardian is appointed, they then have the authority to make decisions regarding that person's health and welfare. A guardianship order may also include authority in the management of any property or assets they possess. Any major decisions made on the person's behalf will have to be presented before a judge. This provides accountability and ensures the guardian continues to act in the person's best interests.
When Is a Guardianship Needed?
A guardianship may be needed when someone suffers from illnesses such as dementia, Alzheimer's disease, or any type of chronic and debilitating condition. According to Caring.com, guardianship, or conservatorship as it is referred to in other areas, can be a valuable tool in taking care of older loved ones.
Unfortunately, these types of proceedings do have negative connotations. They involve disclosing personal facts about the individual and their current vulnerable state, facts which end up being a part of the public record. While family members and friends often take this action as a way of protecting their loved one's health and safety, the person at the center of these proceedings may feel threatened or humiliated. There may also be disputes among family
members regarding who should hold this important position.
One way to alleviate the need for a guardianship is to ensure your loved one has the proper estate planning documents in place before the need arises. Power of attorney, health care power of attorney, and other estate planning tools can designate someone in advance to handle important issues if the person becomes unable to do so, eliminating the need for a guardianship.
Let Us Help You Today
Whether you need help in creating estate planning documents or navigating through guardianship proceedings, Cavallo & Cavallo provide trusted legal guidance you can count on. To schedule a consultation in our office, call or contact our Bronx & Westchester estate planning attorneys online today.
https://www.cavallolawyers.com/understanding-the-probate-process-in-new-york/