Why A Do-It-Yourself Will Is A Bad Idea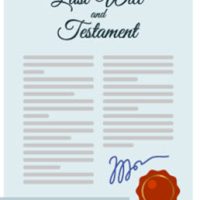 Creating a will is one of the most basic of estate planning tasks. It is also one of the most important. It details the property and assets you possess, dictates how these items should be distributed in the event of your death, designates specific beneficiaries, and helps your loved ones avoid potentially costly and time-consuming probate court proceedings.
With the prevailing attitude towards attempting to DIY things ourselves and the proliferation of online instructions, many people attempt to create a will on their own. Why are do-it-yourself wills such a bad idea? Because not consulting with an experienced estate planning attorney could result in your will falling far short of your intentions or even failing completely when your family attempts to file it with the court.
Potential Problems In Drafting Your Own Will 
According to surveys by Caring.com, more than half of all adults do not have a legally valid last will and testament in place. Some have merely put off attending to this important task while others fail to see why they need one. The fact is that regardless of your current age, your health, or the amount of income and assets you possess, a will is something everyone should have.
While creating one on your own may seem like a good idea, this could create serious problems. Common issues that often arise include:
You could end up leaving out important items;
Your will could be too vague to be of much practical help;
It may not conform to all legal requirements, resulting in it being rejected by the probate court;
Even if it is accepted, it is more able to be challenged or contested by others.
Why You Need Professional Help
Getting professional help in creating your will can help to prevent the above problems. While there are numerous do-it-yourself websites that claim they can assist you with this task, the problem here is that many provide only general instructions and fail to factor in the specific laws that apply in each state.
There are complex guidelines for creating a will under New York State law. These include:
Having a will that is clearly written and laid out;
Accurately identifies and describes all property and assets;
Is dated and signed by two witnesses who do not stand to benefit from it;
Is updated properly to reflect changes in your family or financial situation.
An experienced New York estate planning attorney can help ensure all legal will requirements are met. It can also help to ensure your will accomplishes your objectives and can address whether other estate planning tools, such as a trust, are needed.  
Contact Us Today for Professional Help 
Do not take any chances when it comes to creating a will. At Cavallo & Cavallo, we can ensure your will is professionally drafted and conforms to all legal requirements while addressing any of your other estate planning needs. Call or contact our Bronx & Westchester estate planning attorneys online and request a consultation to discuss your options in our office today.
Resource:
caring.com/caregivers/estate-planning/wills-survey/2017-survey/#:~:text=According%20to%20the%20survey%2C%2081,do%20not%20have%20a%20will.
https://www.cavallolawyers.com/as-nursing-homes-reopen-for-visitors-be-alert-to-signs-of-neglect-and-abuse/