Are You Dealing With a Loved One's Difficult Diagnosis? These Tips Can Help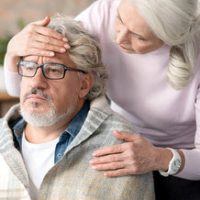 Finding out a loved one has a life threatening disease or an illness likely to prove fatal is devastating. It may be the natural progression of a medical condition your family has been dealing with for months or even years, or the news may stem from an accidental injury or surprise results of diagnostic testing. When this occurs, it is natural to feel unsure of how to handle practical matters surrounding the situation or the complex emotions you feel. At Cavallo & Cavallo, we have walked many clients and their families or friends through similar situations. The following tips and strategies are designed to help you deal with issues you are likely to face.
Coping With a Loved One's Terminal Condition 
Few of us are ever prepared to receive bad news concerning the health of a family member or close friend. You want to be a source of love and support but at the same time likely feeling overwhelmed by a sense of disbelief and sorrow. It is common to find yourself grieving, even as the situation continues to unfold. Common feelings associated with anticipatory grief include:
Sadness and depression;
Fear and generalized anxiety;
Anger at the circumstances surrounding your loved one's condition;
Denial about your feelings and the diagnosis.
It is also common to feel a certain amount of guilt, either about your feelings, problems in the relationship you may have experienced in the past, or the level of help you are able to provide for your loved one. Understanding these feelings are normal and taking care of yourself, either by reading books, talking to others who have been in similar situations, or joining a support group, can help you cope and provide the support your loved one needs during this difficult time.
Addressing Practical Concerns
Part of coping with the situation, both for you and your loved one, involves acknowledging the practical matters that need to be addressed. While having conversations about end of life care and estate planning may feel awkward, it allows your loved one feel more in control of the situation while letting them convey any final wishes. In addition to making sure they have a current, valid will in place, the New York City Health Department recommends advance directives to address common end of life issues that may come up. These include:
Health care proxy, which authorizes someone to make medical decisions in the event your loved one is incapacitated and unable to make them on their own;
A living will, which outlines the extent of end of life care they wish to receive, such as the use of feeding or breathing tubes;
Do Not Resuscitate (DNR) orders, which advise doctors not to revive them if they stop breathing or their heart stops beating.
At Cavallo & Cavallo, we can help you address these and other practical considerations during this difficult time. Contact our New York estate planning attorneys to request a consultation in our Bronx or Westchester office today.
Resource:
nyc.gov/site/doh/health/health-topics/advanced-directives.page