Five Benefits Of A Trust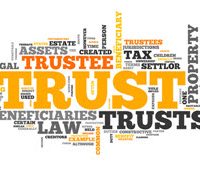 Trusts play an important role in estate planning and asset protection. However, most people are unaware of what they are and how they work. A trust involves a legal document that transfers property and assets to the care of a third party or group, the trustee, for the purpose of making distributions in the event of your death. This person has a fiduciary duty to manage the trust wisely and to act in your best interests. What benefits does a trust provide? The following outlines five important reasons to consider in determining whether a trust is right for you.
Reasons To Create A Trust
Kiplinger advises that trusts are one of the most important and basic estate planning documents and can serve a variety of purposes. Common reasons for creating one and protections it can provide include:
To avoid probate 
When you die, all property and assets you possess must go through the New York Probate Court before they can be distributed to your beneficiaries. Having a will provides a guide, but it can still be contested and as probate is a public proceeding, does not protect your privacy. A trust allows you to avoid probate entirely and ensures complete privacy regarding your assets and how distributions are made. 
To reduce future long term care costs 
Trusted are regularly used as part of Medicaid planning, which can help to reduce future long-term care. By placing your assets into a trust, it makes you eligible for Medicaid, which covers the costs of nursing home care. In this situation, rather than having your life savings quickly depleted, it preserves your assets for future heirs.
To control spending by beneficiaries 
A trust allows you to distribute property and assets to beneficiaries while dictating when and how distributions should be made. This is useful in a variety of situations, such as when providing for a child or mentally challenged adult or when wanting to provide gifts to family on certain occasions, such as a wedding or college graduation. It can also help protect beneficiaries who are troubled or reckless with money, preventing them from wasting their inheritance.
To protect assets in the event of a divorce 
If you get married but have children from a prior relationship, you want to ensure their inheritance rights are protected. A trust can help to separate property your spouse would otherwise be entitled to in the event of a divorce or your death, preserving it for your children. 
To protect assets from creditors and lawsuits
If you fall behind on debts or have large outstanding amounts owed at your death, creditors can lay claim to any money or property you have through a court judgment. Trusts protect you against creditor claims as well as other types of lawsuits.
Let Us Help You Today
At Cavallo & Cavallo, we can help you determine whether a trust is right for you. To request a consultation regarding the options available, call or contact our Bronx & Westchester estate planning attorneys online today.