Five Ways To Show Your Appreciation For Older Americans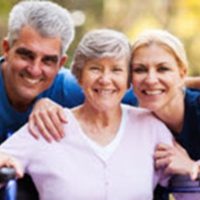 As experienced Bronx & Westchester estate planning attorneys, we know that while today's older adults live longer and enjoy a better overall quality of life than prior generations, they still have unique needs that need to be addressed. Most fiercely value their independence but could use help with certain types of tasks.
May is designated as Older Americans Month and provides the opportunity to acknowledge the accomplishments of older adults we know. One of the ways you can show your appreciation for older family members and friends is by helping them with some practical needs. The following are five suggestions:
Attend A Doctor Appointment With Your Loved One 
Older adults often have difficulty getting to and from appointments. Even if transportation is not an issue, it gives you the chance to act as their patient advocate and ensure important issues are addressed. Managing chronic medical conditions plays a major role in maintaining the quality of life. Review current symptoms and medications with their medical provider.
Do A Safety Check Of Their Home 
Most older adults prefer to age in place but safety hazards can put them at risk. According to the Centers for Disease Control and Prevention (CDC), falls are one of the most common injuries among older adults and often necessitate the need for nursing home care. Do a safety check of your loved one's home and address issues such as loose flooring materials, uneven walkways, cluttered halls, and lack of lighting or adequate handrails.
Make Their Home More Accessible 
In addition to ensuring their safety at home, make sure older adults have easy access to what they need. Move their bed to the first floor and near a bathroom, move items to lower shelves, and put things they use daily within easy reach.
Help In Planning For Future Needs 
Planning for future needs is important for older adults and one of the best steps they can take to ensure they are provided for is to establish a Medicaid trust. This can help offset costs in the event they eventually require nursing home care. It can also make them eligible for community-based long-term care services in New York, such as visiting nurses and meal delivery, enabling them to live at home longer. 
Discuss Their Estate Planning Goals
Estate planning and end-of-life care are often uncomfortable but important topics and most older adults welcome these discussions. Make sure they have advance planning documents detailing their wishes and help them create or update their will, discussing how property and assets should be distributed.
Let Us Help You Today
At Cavallo & Cavallo, we can help you in addressing the needs of older adult loved ones. Give us a call or contact our New York estate planning and nursing home attorneys online and request a consultation in our office today.
Resource:
acl.gov/oam/2021/older-americans-month-2021