Including Social Media and Digital Assets In Your Estate Planning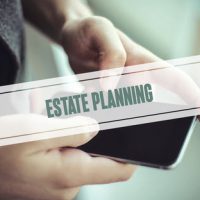 Many people today own websites and conduct an extensive amount of business online, which can be profitable enterprises representing significant sources of income. Whether you sell items or services online, make investments, or receive compensation through crowdfunding and passive income streams, it is important to include these in your will and other estate planning documents. In today's high-tech age, these assets can end up having a significant impact on your overall estate.
Create an Inventory of Your Digital Assets
Keeping track of various online accounts and revenue streams can prove challenging, but making sure they are included in your estate plan is an important goal. According to a Fox News Business report, one of your first tasks should be making a list of all the various digital assets you own. These may include:
Websites and accounts with online resellers;
Referral and affiliate programs you participate in, such as Amazon;
Revenue from online advertisers, such as Google Adwords;
Profits from online agencies you partner with.
In addition to digital business assets, make a list of your private financial, credit card, and investment accounts as well. Alongside, make note of usernames and passwords that go with each, which you will want to keep in a secure location. This will enable easier access for beneficiaries and estate trustees. Be sure and include the emails associated with all of the above accounts as well.
Once you have this inventory in hand, sit down with our estate planning attorneys and determine the total amount of assets these accounts represent. In addition to ensuring they are included in your will and that any funds will be distributed to those who will inherit from your estate, these accounts can also be listed with power of attorney documents. This ensures they will continue to be managed in the event you are unable to attend to them yourself.
Managing Your Social Media Accounts
Along with digital assets, many of us maintain an online presence through social media accounts. Whether you use these for networking purposes or for simply keeping in touch with family and friends, it is a good idea to include directions for these accounts in your estate planning.
Include your usernames and passwords for social media sites such as Instagram, Twitter, Pinterest, and LinkedIn, along with directions on how you want your profile handled in the event of your passing. You may want these accounts deleted, or you may want them used by friends and family to share information and condolences. Facebook is one of several social media sites that allow users to switch to memorialized accounts, which allow someone you trust to take over the account on your behalf.
Contact Us Today for Help
At Cavallo & Cavallo, we can help you coordinate your digital and social media accounts so they can be accessed by family or business associated as needed. To ensure these assets are included in your will and other important legal documents, contact our New York estate planning attorneys and request a consultation today.
Resources:
foxbusiness.com/features/should-your-digital-assets-be-included-in-your-will
facebook.com/help/1506822589577997