Make Aging In Place Your Goal For This Year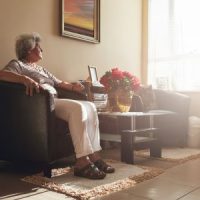 A new year means new resolutions geared to achieving goals and improving your overall lifestyle. If you are an older adult, make one of your aging in place. Our Bronx & Westchester estate planning attorneys explain the advantages and how to make it a reality.
The Advantages of Aging In Place
Aging in place means that rather than entering a nursing home or other long term care facility, you remain in your own home during your golden years. Why would you want to make aging in place a priority? The older you get, the greater your needs typically become. Limited mobility and increased need for ongoing medical care often push people into long term care facilities. Advantages of aging in place instead include:
Reduced costs: The New York Department of Financial Services (DFS) reports that staying in a nursing home in the city can cost as much or even more than $400 per day.

Protects your loved ones: The high cost of nursing home care can quickly drain your life savings, depleting any inheritance you planned to leave for your loved ones and possibly forcing them to assume some of the costs.

Increased comfort: While most nursing homes try to avoid an institutional feel, people are generally more comfortable remaining in their own homes, with their own furnishings and personal belongings.

Greater freedom: Nursing homes have to be concerned with the safety of all As such, they have numerous restrictions in place. While you may have some options, they will control everything from the food you eat to when you go out or have visitors. Aging in place allows you greater freedom to continue living an independent life.
Steps To Make Aging In Place A Reality
Aging in place generally does not just happen. There are steps you will need to take if you want to remain in your own home and avoid long term care in the years ahead. One of the first involves ensuring you get the community support you may eventually need. By creating a Medicaid trust now, you can gain access to a variety of services and avoid paying out of pocket for the high costs involved. The National Institute on Aging recommends some other tips to meet aging in place goals:
Live a healthy lifestyle. Eat right, exercise, and avoid unhealthy habits.

Visit your doctor regularly. Stay on top of any chronic conditions.

Make sure your home is accessible and easy to manage. Contact our New York real estate attorneys if you need to downsize.

Reduce fall risks. These can cause injuries that necessitate the need for nursing home care. Wear appropriate footwear, reduce clutter, and install grab bars in bathrooms and other areas of your home. 
Contact Our New York Estate Planning Attorneys
Cavallo and Cavallo can guide you in strategies to make aging in place possible. Call or contact our New York estate planning attorneys online and request a consultation in our office today.
Resource:
dfs.ny.gov/consumers/health_insurance/long_term_care_insurance/cost_ltc