Nursing Homes Ordered to Increase Safety and Preparedness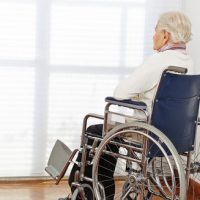 Fall is the time when storm conditions in the Atlantic reach their peak and have the greatest potential to impact the east coast. Most of us can remember the devastation caused by hurricane Sandy in 2012 and have taken extra precautions to protect ourselves and our property since. Unfortunately, a recent report by New York officials warns that some of the most vulnerable among us could be in harm's way. Medicaid approved nursing home care facilities have been cited for shortcomings and are being urged to update their policies and increase their overall preparedness.
New York Urges Increased Oversight of Nursing Care Facilities
For older adults and their family members, nursing home care can help ensure they get the medical attention and assistance with daily tasks they need. Medicaid planning helps to keep the costs of this care from draining your life savings while Medicaid-approved facilities must maintain certain standards of care.
Unfortunately, a recent report issued by the Department of Health and Human Services (DHHS) sheds light on some disturbing concerns at these facilities. In August 2019, the Office of Inspector General warned that Medicaid-approved facilities in the New York area are not meeting standards when it comes to safety preparedness. The report details investigations conducted at 20 area nursing homes, revealing more than 200 areas of non-compliance. Among the most troubling issues found include:
A lack of life safety requirements in terms of building entrances and exits;
Problems with fire equipment and suppression systems;
Failure to contain smoking areas and to conduct routine fire drills;
A lack of carbon monoxide detectors;
Hazardous storage policies which could create risks;
Inadequate elevator and equipment testing procedures;
A general lack in planning for emergency evacuation situations;
Failure in providing emergency preparedness training for nursing home staff and residents;
Inadequate patient tracking and poor staff to resident ratios;
Inadequate policies regarding emergency communications, in the event they are needed.
All of these could prove disastrous for your loved ones and could endanger their lives in the event a catastrophe occurs.
Planning for Loved Ones in Nursing Homes in Emergency Situations
Unexpected events can happen at any time and knowing what you will do in any given situation can help to save lives. The federal government has declared September as National Preparedness Month, which happens to coincide with the DHHS nursing home report. To ensure your loved ones are protected, follow these tips when choosing a nursing home or checking the quality at a current facility:
Use Medicare's Nursing Home Compare tool to see how various nursing homes rank on health and safety issues;
Meet with administrators to discuss staff/patient ratios and other quality of care issues;
Ask what the procedures are for emergency situations;
Make sure your emergency contact information with the facility is updated.
Let Us Help You Today
When you have concerns regarding Medicaid planning or nursing home care, Cavallo and Cavallo can provide the trusted guidance you need. To schedule a consultation in our office, contact our Bronx & Westchester Medicaid & nursing home attorneys today.
Resources:
medicare.gov/nursinghomecompare/search.html?
ready.gov/september
oig.hhs.gov/oas/reports/region2/21701027.pdf
https://www.cavallolawyers.com/what-to-look-for-when-you-or-someone-you-love-needs-long-term-care/