What to Look for When You or Someone You Love Needs Long-Term Care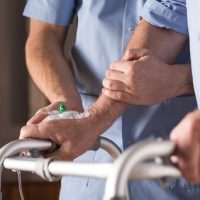 If you and your family members are currently healthy, planning for nursing home care is not likely to be a topic of conversation. However, injuries or illnesses can happen suddenly and discussing your options now can help you be better prepared. As experienced Bronx & Westchester Medicaid and nursing home attorneys, we can help you address issues regarding long-term care and how to pay for it. The following are key factors you will want to consider.
Qualities to Look for in Nursing Home Care
If you or someone you love is in an accident or gets diagnosed with a serious illness, you could find yourself facing the need for extensive, extended medical care. Placement in a long-term care facility or nursing home is likely to be your best option. Unfortunately, there are plenty of grim stories about these places and patients who do not get the quality of care they need. The National Institutes of Health (NIH) recommends discussing potential future needs now, before unexpected events create an emergency situation for you or others in your family. Questions to ask yourself include:
What types of services are provided in my area? Look into home health care support services as well as long-term care facilities.

What is important to me in receiving care? Some people have religious affiliations, preferences regarding the type of setting, or chronic conditions such as dementia which can influence their choice in facilities.

How are local facilities rated? Medicare provides a Nursing Home Compare tool, which allows you to see ratings and how different places rank on a state or national scale.
When the time comes that care is needed, you will want to make several visits to a facility before making a final selection. Go at different times of day, talk to residents, and arrange to have a meal there. This will give you a broader picture of the quality of life residents enjoy and how a nursing home or long-term care center is run.
Paying for Long-Term Care
A major factor to consider with nursing home and long-term care is how you will pay for it. According to the New York Department of Health, the average costs in our area total more than $400 per day.
Addressing this issue in advance plays an important role in protecting your family and your assets. Depending on your situation, an NYSARC trust may be an option to consider. This can shield your income and property, allowing you to qualify for Medicaid. It can prevent your life savings from being wiped out by even a short stay in a nursing home or other facility.
Let Us Help You Today
Planning now for future needs helps to prevent hasty decisions while protecting your health and financial security. At Cavallo & Cavallo, we can guide you in the options. Contact our New York nursing home planning attorneys and request a consultation in our office today.
Resource:
nia.nih.gov/health/choosing-nursing-home
https://www.cavallolawyers.com/help-for-transitioning-out-of-nursing-home-and-long-term-care/