Patient Safety Awareness Week: Protecting Your Most Important Asset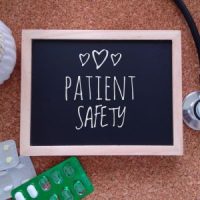 Maintaining your health plays a key role in protecting your assets. It ensures you can continue to provide for yourself and your family while preventing medical care costs from depleting your life savings. You trust your doctor to act as your ally in this effort, but you need to be proactive to get the highest quality of care. Patient Safety Week emphasizes the importance of being your own patient advocate to prevent medical mistakes and errors that could impact your health.
Medical Mistakes And Errors
Held annually each March, Patient Safety Awareness Week promotes better quality of medical care. Part of the focus is on preventing medical mistakes and errors, which are one of the leading causes of death and disability in the U.S.
According to studies by John Hopkins Medicine, roughly 10 percent of all deaths are due to medical errors, otherwise referred to as 'adverse events'. These claim the lives of more than 250,000 people each year while leaving millions of others with serious personal injuries. Among the most common mistakes include:
Missed and delayed diagnosis, which prevents patients from receiving the treatment they need;
Medication errors, which can result in serious reactions;
Anesthesia errors, such as administering the wrong type of amount;
Surgical errors, which include mistakes during the procedure and operating on the wrong patient;
Health-care acquired infections, due to not changing dressings or IVs regularly and failing to follow proper sanitization practices.
Even a seemingly minor mistake or error on the part of your doctor, diagnostic technicians, or anyone involved in your medical care can have major impacts on your health. These can impact your financial security as well, resulting in heavy medical expenses and hastening the need for nursing homes or other types of long term care.
Be Your Own Patient Safety Advocate
Regardless of your age, it is important to take a proactive role in the medical care you receive. However, the National Institutes of Health (NIH) reports that medical mistakes and errors are particularly common among older adults and those suffering from chronic health conditions. To protect yourself, it is important to act as your own patient safety advocate. This includes taking the following steps:
Make a list of questions you want to ask when visiting your doctor;
Make a list of all symptoms you suffer from and any medications you are currently taking;
Make sure your health history is updated at each visit;
Make your doctor awareness of any specialists or other health care providers you are currently seeing;
Ask why when tests are recommended and make sure to get the results;
Request follow-up appointments to mark your progress and any recovery you are making.
Let us Help You Today
As your neighborhood law firm, Cavallo & Cavallo can advise you on strategies to protect your health and other important assets. Call or contact our Bronx & Westchester estate planning attorneys online today to request a consultation in our office.
Resource:
ihi.org/Engage/Initiatives/Patient-Safety-Awareness-Week/Pages/default.aspx