Senior Safety Tips: Protecting Yourself on Stairs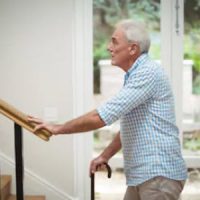 As experienced New York asset protection attorneys, we know that good health and mobility are your most important possessions. Unfortunately, as you get older the likelihood of accidents and injuries increases. Slips and falls are the most common threat for older adults and can cause a general overall health decline in the aftermath. Stairways are one of the most likely places for a spill to occur. The following offers some simple safety tips on ways you can protect yourself.
Why Older Adults Need To Take Precautions
Slips and falls are one of the most common types of accidents and can result in serious, disabling, and even potentially life-threatening personal injuries. They can happen at any age but people over the age of 65 are among those most at risk. According to the Centers for Disease Control and Prevention (CDC), one out of every four older adults suffer injuries as a result of a slip and fall each year. The older you are, the greater the potential for these accidents to cause permanent harm.
For seniors, it is important to be aware that reduced vision, poor balance, and problems with the feet and joints make falls more likely to occur. A loss of balance and general flexibility along with more fragile bones increases the likelihood of serious injuries as a result. Injuries to soft tissues take longer to heal from and broken hips or pelvic bones are a major concern. These can lead to impaired mobility, impacting your overall health and your ability to provide for yourself or live on your own.
Stairway Safety Tips For Seniors
Preventing slips and falls should be a top priority for seniors. Stairways are one of the biggest safety hazards. Protect America Home Security offers these tips that can help keep you or your older adult loved ones safe:
Make sure all stairways all well lit, with light switches that are easy to reach and activate.
Install secure, strong hand rails on both sides of the staircase and make sure you use them every time you go up or down.
Keep stairway carpets and flooring well-maintained and consider adding a non-skid runner.
Avoid using area rugs on either the top or bottom of stairs, as they create a major trip hazard.
Avoid cluttering stairs with laundry, books, plants, or other items.
The more you go up and down the stairs each day, the more your chance of falling increases. Consolidate your trips and consider moving your bedroom, laundry equipment, and other important items you use regularly to the first floor to make life easier. In the event a fall does occur, wearing a medical alert system pendant can ensure you get the emergency help you need.
Let Us Help You Today
As your neighborhood law firm, our Bronx & Westchester estate planning attorneys at Cavallo & Cavallo are here to help you deal with the challenges that go along with aging. To request a consultation in our office, call or contact us online today.
Resource:
cdc.gov/homeandrecreationalsafety/falls/adultfalls.html
https://www.cavallolawyers.com/aging-in-place-ways-to-reduce-accident-risks-in-your-garage/