Show Your Pets Some Love in Your Estate Plan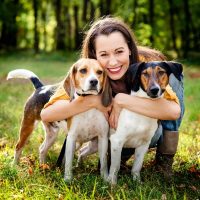 If there is no human being to whom you want to leave your property, you are not alone.  You may not have any family members who would use the money responsibly or any friends who need the money.  If you are old enough to write a will, then you are old enough to know that people will disappoint you, but animals will not.  This is even more obvious if you own enough property that it is worth fighting over.  What happens to your estate after you die is your decision, and if you so choose, you can use it to benefit the animals that brought joy to your life, or even some four-legged friends you never had the privilege of meeting.  A Bronx estate planning lawyer can help you craft an estate plan that benefits your pets, or the animal kingdom in general.
Pets Can't Inherit, but You Can Provide for Them in Your Will
The law considers domestic animals property.  They are not money or real estate, so, from the perspective of the probate court, dogs and cats are personal property, meaning that they are in the same category as furniture and memorabilia.  Your will should indicate the name of the person or people who will inherit your pets when you die.  For example, you can say, "My brother John Bloggins of Yonkers, New York shall inherit my dog Horatio and my cat Mercutio."  Your will is not the place to go into detail about what your brother should do to take care of the animals.  You should talk to him about it while he is alive; presumably, you chose him because he has a history of pet ownership and has provided adequate care for his own dogs and cats.
No Lap Dog Has Millions of Dollars of Expenses
You can set up a trust to provide for your pets' care, especially if you want your pets to continue living in your house after you die.  In the trust document, explain to the trustee how much you have set aside for each expense the animal may incur, such as food, utilities at the house, and grooming.  You should figure in a salary for the person or people responsible for feeding and walking the dogs and taking them to the groomer and the vet.  Keep in mind the animal's expected lifespan; in the early 2000s, the estate of a woman named Leona Helmsley was the subject of a dispute because she had set aside millions of dollars for the care of her Maltese dog, Trouble.  Based on the expected lifespan of a domestic dog, Trouble's expenses could not have exceeded the tens of thousands of dollars, not including the dog's caretaker's salary.
Schedule a Confidential Consultation With a Bronx Estate Planning Attorney
An estate planning lawyer can help you build an estate plan that aligns with your wishes to give your pets a happy life even after you are gone.  Contact Cavallo & Cavallo in the Bronx, New York to set up a consultation.
Source:
businessinsider.com/trouble-leona-helmsley-dog-died-2011-6