When Will It Be Safe To Visit Nursing Homes?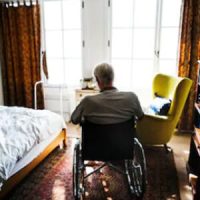 In New York, cases of coronavirus are steadily declining and elected officials are taking steps to reduce some of the restrictions previously put in place. While businesses are beginning to reopen and hospitals are now allowing visitors, residents of nursing homes and long-term care facilities continue to be isolated. The following details the criteria being used to determine reopening plans as well as actions you can take now to reassure nursing home residents.
Nursing Home Restrictions Remain In Place 
New York has been in a state of lockdown now for more than three months as a result of the coronavirus pandemic. During this time, many have had to deal with the heartache of having a loved one hospitalized and eventually pass away without being able to visit.
As a result of social distancing efforts and stay home orders that were put in place, New York is seeing a decline in cases. According to a May 30, 2020 New York Times news report, the city will begin phase 1 of reopening in the coming weeks. This would allow retail stores and other establishments to reopen on a limited basis. Hospitals are also loosening some of their restrictions against visitors while also ensuring they are ready to respond to any upticks in cases that result.
While all of this is much needed good news for New York City residents, it leaves out nursing home residents and their families. The New York Health Department advises that guidelines restricting visitors at nursing homes and long-term care facilities which were put in place back in March 2020 will remain in effect until further notice.
When Will Nursing Homes Allow Visitors?
Older adults and those with compromised immune systems are among those most at risk of contracting COVID-19 and of suffering potentially life threatening complications. The virus has caused large numbers of deaths at nursing homes around the country. As a result, state officials are reluctant in reopening these facilities to visitors, who may be potential carriers of the infection.
According to the American Association of Retired People (AARP), there are clear guidelines on when it might be safe for nursing homes to allow visitors. Benchmarks which must be met include:
A general decline in cases throughout the surrounding community;
The ability to test all nursing home residents and staff for COVID-19 on a weekly basis;
Adequate supplies of masks and other personal protective equipment (PPE);
The ability to have an adequate amount of staff members on duty.
Until this criteria is met, family and friends will need to look for alternative ways to comfort and support nursing home residents. Standing outside windows, making signs, and coordinating parades to pass by are all popular options, as are regular phone calls, videos, and virtual get-togethers.
Let Us Help You Today
As your neighborhood law firm, Cavallo & Cavallo is here to help answer your questions about nursing home planning and care during this difficult time. To request a consultation, contact our Bronx & Westchester Medicaid & nursing home attorneys today.
Resource:
nytimes.com/2020/05/30/nyregion/coronavirus-new-york-live-updates.html#link-7302028e
https://www.cavallolawyers.com/mens-health-month-last-month-heightens-awareness-of-preventable-health-problems/