Decluttering Is No Substitute for Estate Planning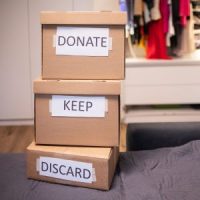 In estate law, anything that is not money or real estate is considered personal property; it includes furniture, jewelry, books, clothing, and all of the other miscellaneous items in your house.  For good reason, it is not usually one of the first things that people think about in their estate plans.  Therefore, lots of people who die with their wills and other important documents carefully drafted leave behind a house full of stuff that their relatives will have to sort out before they sell the house or before the beneficiary who inherited it moves in.  If you had to do this task for the house of your deceased parents, it was probably a lot of work at a time when you were least in the mood for a big decluttering project, but perhaps it was also a chance to reminisce with your siblings, and maybe your daughter still wears the necklace that you found at the bottom of Grandma's jewelry box.  Meanwhile, there are entire regions of the Internet devoted to shaming people for owning clutter and advocating one or another decluttering strategy.  Some social media accounts might even lead you to believe that every estate plan should begin with Swedish Death Cleaning.  Whether or not you ever get around to decluttering your house, you do need an estate plan, and a Bronx estate planning lawyer can help you build one.
If Your Personal Property Is Just Stuff, This Will Be Obvious to Your Heirs
No, you do not need to write an itemized list indicating the destination of every knickknack in your house and leave a copy of it right behind your will; if you did, it would make even more work for your heirs than if you just let them decide what to do with your stuff.  If your personal property is important enough to warrant specific plans, you probably already know this.  For example, if you have a valuable collection of memorabilia, do not leave it to your heirs to have it appraised and figure out whether to store it or sell it.
If you do not make any plans for your personal property, your heirs will probably assume that you do not really care what happens to it.  They will keep the items they like the best and donate the rest to Goodwill or hold an estate sale.  If this is acceptable, then there is no need to take further action.  If you have a preference about what happens to certain items of personal property, you should indicate this in your will or give those items to the intended recipients while you are alive.
Schedule a Confidential Consultation With a Bronx Estate Planning Attorney
An estate planning lawyer can help you face the fact that, while personal property is just stuff, end-of-life care, final disposition of remains, and the role of personal representative of an estate are not.  Contact Cavallo & Cavallo in the Bronx, New York to set up a consultation.
Source:
theguardian.com/commentisfree/2015/nov/05/decluttering-buying