Estate Planning Tips for Newlyweds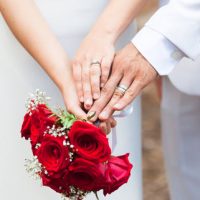 The late spring/early summer months are among the most popular in terms of weddings. Newlywed couples who have spent months being engaged and planning their wedding will finally get the chance to settle into their new lives together. In these rush of excitement, there are some practical matters that need attending to. Among the most important are to ensure you have the proper estate planning documents in place.
Five Important Estate Planning Tasks for Newly Married Couples
While every season offers special charms for engaged couples planning a wedding, The Knot advises that June remains the most popular month to get married. Once the big event is over, you will be busy attending to daily tasks and setting up your household. Taking the time now to complete some important estate planning tasks can help to ensure you are protected in the years to come.
Estate planning is one of the most important things you can to ensure both you and your spouse are provided for in the event of unexpected events. The following are five tasks you should complete as soon as possible:
Create A Will: A will is one of the most important estate planning documents, as it provides an inventory of your property and assets while designating your beneficiaries. It can also help you avoid lengthy New York Probate Court processes that could cost your loved ones time and money. Sitting down with an attorney and drafting a will also helps you and your spouse to be clear on any final wishes you would have.

Discuss Advance Directives: Advanced directives include documents such as living wills and do not resuscitate (DNR) orders, which let your medical providers and family members know your wishes in the event you are unable to communicate them yourself. You can designate your spouse to act as your power of attorney as well, which will allow them to manage your affairs on your behalf.
Change Your Beneficiaries: If you currently have benefits such as a pension plan, a 401k, or other financial accounts, you want to be sure your spouse is designated as your beneficiary. While they would likely be entitled to these assets in the event anything happened to you, granting them this designation speeds the process and helps them avoid more complicated procedures.
Retitle Real Estate: If you currently own property in your name alone, you will want to consider retitling it to include your spouse. Consider using a 'joint tenancy with rights of survivorship' which automatically transfers ownership to them in the event anything happens to you.
Consider Life Insurance: It is common to not have significant assets as a newly married couple or even to have a considerable amount of debt. In this situation, life insurance can help ensure the financial security of your partner.
Reach Out to Us Today for Help
As your neighborhood law firm, Cavallo & Cavallo provides the legal guidance you need as you build your life together. To find out how we can help you, contact our Bronx & Westchester estate planning attorneys and request a consultation today.
Resource:
theknot.com/content/most-popular-wedding-dates-2018
https://www.cavallolawyers.com/protect-your-rights-to-disability-benefits/