Three Important Lessons to Learn From Lee Radziwill's Estate Plan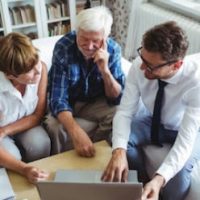 Lee Radziwill was the younger sister of First Lady Jacqueline Bouvier Kennedy. She was a well known American socialite, an interior decorator, and similar to her striking sibling, a fashion icon in her own right. Her recent passing marks the end of an era in some ways. While there may be few who enjoy the type of wealth Mrs. Radziwill inherited or earned over the course of her life, her estate plan holds important lessons which can benefit anyone.
How the Death of an American Icon Can Impact Your Own Estate Plan 
Caroline Lee Radziwiłł passed away at the age of 85 on February 15, 2019 at her home in New York City. According to Town and Country, in addition to being the sister-in-law of President John F. Kennedy, she quickly became well known both for her personal life and individual accomplishments. A former Princess, author, renowned interior designer, and a staple on magazine covers and best dressed lists. Radziwill exuded an air of sophistication, along with an aura of grace and poise that was admired by many.
Her will was filed recently with the New York Probate Court, and Forbes claims that both this document and other tools she used in planning for her eventual passing provide important lessons that even those with considerably fewer assets can implement as part of their own estate plan. These include:
Having a recently updated will. Radziwill's cause of death has not been disclosed so it is only speculation whether she was ill and aware that the end was near. Regardless, she took the steps in the final months of her life to make sure her will was properly updated, an important task that we all should do on a regular basis. Updating your will ensures that it properly reflects your current situation and includes any recent events in your family, such as births, marriages, or deaths.

Having both a will and a trust in place. While Radziwill's will handle certain aspects of estate administration, the bulk of her wealth was held in a trust. A trust can be used to dictate the terms of how assets are distributed so as to ensure they are not be squandered or wasted, while also allowing you to provide for future generations.

Granting a limited power of appointment over a trust. Radziwill was the beneficiary of inherited family wealth and held a limited power of appointment over trusts created by both her mother and her famous older sister. This allowed her to distribute certain funds to others from these trusts, but limited these distributions to certain heirs or charities. Again, this helps to protect future generations and ensure assets remain in the family.
Discuss Your Situation With Our New York Estate Planning Attorneys
At Cavallo & Cavallo, we are your neighborhood law firm, providing the trusted legal guidance you need in matters impacting your family. To discuss your particular situation, contact our Bronx & Westchester estate planning attorneys and schedule a consultation today.
https://www.cavallolawyers.com/estate-planning-updates-during-and-after-a-divorce/