Checklist for Weatherizing Your Home This Fall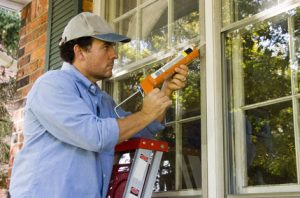 Fall is a favorite time of year for many home owners. It is cool enough to shut your air conditioner off without being cold enough to use your heating system, saving you money on home heating and cooling costs, while plenty of daylight remains which allows you to lower your light bill. Whether you have just moved into a property or are looking to sell your home, cooler temperatures also make it the ideal time to get around to some interior and exterior maintenance tasks that could increase your overall savings while also increasing your home's comfort and value. Before the weather turns chilly, follow our checklist for weatherizing your home this fall to ensure you are ready for colder days ahead.
Interior Home Checklist
Your home is an investment, and keeping it in peak condition makes good financial sense. While some larger or more complicated home repair tasks may require outside help, there are still plenty of things you can do on your own to increase your home's energy efficiency. Use our fall home checklist to identify areas in need of attention, starting with these interior maintenance tips from Better Homes and Gardens:
Clean or replace dirty air filters.
Consider investing in a humidifier, which can help protect your sinuses against forced, dry air from your heater. If you already have a humidifier, make sure the plates and pads are clean.
Check fireplaces for soot, buildup, and blockages. Exercise your damper to ensure it is working properly.
Test batteries in your smoke alarms and replace as needed. Consider adding additional smoke alarms in hallways, and guest rooms.
Check windows and door jams for drafts, and seal gaps with weather stripping and caulk.
Test your furnace for signs that a tune up is needed. These include screeches and whining sounds that could indicate belts need replaced, and performance issues such as poor or erratic output.
Exterior Home Checklist
Once you have gone through the interior of your home, it is time to check the exterior for needed repairs. To ensure your home is functioning properly both inside and out, use these tips from homecare expert Bob Vila:
Check your foundation for cracks, and caulk areas where masonry meets siding.
Remove outdoor screens and install storm doors and windows.
Check the roof for missing or loose shingles.
Weather-strip your garage and basement doors.
Drain garden hoses and insulate outdoor plumbing.
Clean out your gutters and downspouts, and inspect the joints and brackets and tighten as needed.
Inspect your driveway for cracks, using driveway filler for repairs.
In addition to the inside and outside of your home, make sure your yard and deck are ready for cooler temperatures as well. Store lawn furniture and gardening supplies you will not be needing, and make sure any outdoor fixtures, such as pools, grills, and firepits, are covered securely. Inspect the supports, stairs, and railings on your deck, and make sure all sidewalks and walkways are even and free of cracks.
Reach Out to Us Today for Help
When you are considering investing in a new home or selling your existing property, get the professional legal help you need and contact our experienced New York real estate attorneys. At Cavallo & Cavallo, we are your neighborhood law firm, provide full service real estate assistance to help protect your investment.
Resources:
bhg.com/home-improvement/maintenance/weatherizing/your-homes-fall-checklist/#page=0
bobvila.com/articles/1499-fall-home-maintenance-checklist/#.V-WbiPArLIU