Anticipating Future Nursing Home Needs and Helping Older Adults Downsize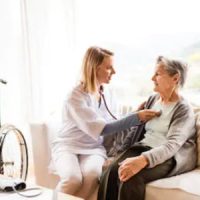 There comes a time when it is no longer safe or feasible for older adults to live alone. Medicaid and nursing home care planning help elderly loved ones meet future challenges they are likely to face. Talking with them about their options and helping them downsize now can ensure they are prepared.
Know the Options Available for Elderly Loved Ones
Older adults value their independence and living in their own homes. Unfortunately, circumstances can make this challenging. Illnesses, injuries, and chronic medical conditions make them more vulnerable. Special accommodations may be required to ensure their continued safety and mobility.
Medicaid planning now helps to address future needs. According to the New York Department of Health, nursing home care throughout the state can average as much as $10,000 or more. Advance planning helps to ensure these costs are paid without depleting your loved one's life savings. It also makes them eligible for home health services, which can help them age in place and maintain their independence for longer periods. Early and frank discussions about where they want to live and who should provide for them are necessary to ensure future needs are met.
Helping Elderly Loved One's Downsize
Alongside financial planning, there are practical issues you can help elderly loved ones address in their homes. One of the biggest involves downsizing. Modern Retirement states this is an important step once older adults have considered their future living options, such as nursing home care, assisted living, or moving in with a family member.
Even if they plan to remain in their own home, downsizing eliminates clutter. This makes cleaning easier and reduces the risk of accidents. Whether a move is imminent or likely to occur in the future, downsizing ensures they are prepared. To help older adults downsize, follow these steps:
Consider future living space. Outline the amount of room they will have. Do they need practical items, such as appliances, furniture, and pots or pans? What sentimental items mean the most to them and will make a place feel most like home?
Clean, sort, and sell: Give the entire house a thorough cleaning. As you work, begin sorting through the items you find. Determine what needs to be sold, donated, or thrown away.
Packing: In addition to furniture or personal belongings your loved one will want to take with them, there will likely be those they want to store. Use sturdy boxes or bins and make sure they are properly labeled. When it comes time to actually make a move, pack no more than 10 to 20 pounds in each box. This will make it easier for your elderly loved one to lift, organize, and arrange.
Let Us Help You Today
At Cavallo & Cavallo, we provide trusted legal guidance in planning for the future needs of both you and older adult family members. To schedule a consultation in our office, contact our Bronx & Westchester Medicaid and nursing home attorneys today.
Resource:
modernretirement.org/how-to-help-an-elderly-loved-one-downsize/
https://www.cavallolawyers.com/winter-safety-tips-for-older-adults-reduce-the-risks-of-injury-and-the-need-for-nursing-home-care/