Home Fall Prevention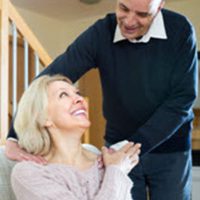 Rearranging furniture, cleaning up clutter, and performing routine maintenance are all common fall tasks. They are particularly important if you are an older adult or have older family members living in your home. Falls are one of the leading causes of personal injuries among people over the age of 65, necessitating the need for nursing home care. This autumn, go through your house and address trip hazards that increase the risks.
Older Adult Fall Risks
The Centers for Disease Control and Prevention (CDC)  warns that millions of older people over the age of 65 suffer slip and fall accidents each year. Many of these end up requiring hospital care due to the severity of their injuries. Wrist, arm, ankle, and hip fractures are all common, as are head, back, and neck injuries.
For older adults who do not bounce back as quickly as their younger counterparts, slip and fall accidents can cause an overall decline in general health, necessitating the need for nursing homes and other types of long term care. Even if they only suffer minor injuries, the fear of falling again in the future could cause them to cut down on walking and other daily activities.
Falls are a common cause of personal injuries in general, but there are issues that go along with aging that makes older adults more at risk. These include:
General muscle weakness, particularly in the lower body;
Stiff joints that make walking more difficult;
Problems in maintaining balance;
Vision disturbances, making them more likely not to see obstacles;
Increased use of medication, which can cause overall impairments.
How To Reduce The Risks Of Falling In Your Home
Falls can happen in any public place. They are common at grocery stores, restaurants, and retail establishments, as well as in office buildings and on public sidewalks. Wearing shoes with non-slip soles can help to reduce your risks, as can using caution in wet, rainy conditions.
For older adults, falls are more likely to happen in and around the home. To reduce the risks, the National Institute on Aging recommends the following tips:
Rid halls and walkways of clutter;
Make sure there is adequate lighting in all halls and rooms;
Use nightlights throughout the home;
Repair any torn carpeting or loose tiles;
Arrange furniture in a way to prevents trip hazards;
Keep items you use regularly within easy reach;
Install rails and grab bars in bathrooms and on stairs;
Maintain outdoor landscaping and fix any chipped or cracked paving stones immediately.
If a fall does happen, seek medical care immediately, regardless of symptoms. Not doing so puts your health at serious risk.
Let Us Help You Today
At Cavallo & Cavallo, we know how important it is for many older adults to remain in their own homes. We provide tips that can help you age in place. We can also advise you on ways to reduce the future costs of nursing home care, if and when it is needed. Contact our Bronx & Westchester Medicaid & nursing home attorneys and request a consultation in our office today.
https://www.cavallolawyers.com/mens-health-month-last-month-heightens-awareness-of-preventable-health-problems/