Nursing Homes At Center Of Controversy Over Handling of Coronavirus Pandemic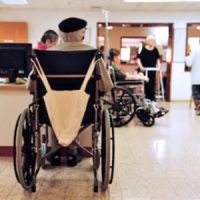 The coronavirus pandemic is a serious health threat to people of all ages but older adults and those with underlying health conditions are among those most at risk.  Sadly, residents in nursing homes are particularly susceptible and the pandemic has ravaged facilities in New York and across the United States. Controversy over how nursing home administrators are handling the threat has forced Medicaid to step in to ensure coronavirus cases among residents are being reported and handled properly.
Medicaid Requires Stronger Reporting Of Coronavirus Among Nursing Home Residents
As the COVID-19 (coronavirus) death count continues to climb, there are concerns regarding nursing homes and their handling of the pandemic. According to an April 27, 2020 NBC News report, the coronavirus has ravaged nursing homes throughout the country, claiming the lives of more than 12,000 residents. To protect nursing home administrators and their employees, the nursing home industry is pushing states to provide immunity against lawsuits. Many of these are filed by family members who claim that nursing homes have been negligent both in preventing the virus and reporting cases as they were uncovered.
In the midst of the controversy, the Centers for Medicare and Medicaid Services (CMS) stepped in. On April 26, CMS announced stricter requirements for nursing homes in terms of reporting current coronavirus case counts to families, the state, and federal health officials. CMS is also requiring nursing homes to provide greater transparency for residents and their family members regarding their handling of the pandemic. Nursing homes are now required to provide detailed information about the steps they are taking to prevent the spread of the virus among patients and staff members in nursing home facilities.
Questions You Need To Ask Nursing Home Administrators 
For people with loved ones in nursing homes, the pandemic has been particularly heartbreaking. Justifiable fears that family members and friends inside nursing home facilities will contract the virus are heightened by the fact visitation with these loved ones is currently being denied. While this is needed to protect the safety of nursing home residents, it puts outside family members at a disadvantage in terms of seeing for themselves how their loved one is doing and how the facility is being operated.
The new Medicaid rules regarding how nursing homes handle coronavirus-related concerns and stricter reporting requirements of cases should help. If you have a loved one quarantined in a nursing home or other long term care facility, the American Association of Retired People (AARP) advises asking these questions:
Has anyone at the facility tested positive for COVID-19?
What cleaning and disinfecting procedures are being followed to protect residents?
Are healthy living programs still being operated?
How are deliveries and drop-off packages being handled?
What are the options for communicating with residents?
Let Us Help You Today 
If you have concerns about loved ones in nursing home facilities, reach out to Cavallo & Cavallo. Call or contact our Bronx & Westchester Medicaid and nursing home attorneys online and request a consultation to discuss your concerns today.
Resources:
nbcnews.com/health/health-care/nursing-home-industry-pushes-immunity-lawsuits-during-coronavirus-emergency-n1192001
aarp.org/caregiving/health/info-2020/questions-for-quarantined-facility.html
cms.gov/files/document/qso-20-26-nh.pdf
https://www.cavallolawyers.com/four-common-challenges-older-adults-face/