Is Nursing Home Care In Your Loved One's Future?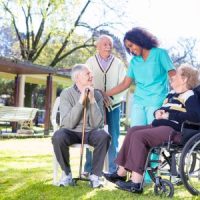 It is challenging to deal with the demands of aging and the different needs that arise along the way. When caring for an older adult loved one, it is common to wonder when and if nursing home care is likely to be needed. The following details some of the common warning signs and what you can do to prepare
Common Warning Signs That Dictate The Need For Nursing Home Care
Most older adults would prefer to 'age in place', which means remaining in their own home for as long as possible rather than having to move to a nursing home or other assisted living or long-term care facility. According to a 2020 report by USA Today, more than 17 million people act as caregivers for older adult friends or family members, making aging in place possible.
Despite your efforts, there may come a time when trying to keep up with the medical, personal, and social needs of older adult loved ones is no longer possible. Warning signs that a nursing home may be needed now or in the near future include:
The older adult experiences a decline in mobility, such as having to use a walker or wheelchair to get around;
They suffer memory lapses and cognitive declines, which while common with aging, puts their health and safety at increased risk;
They have a lack of coordination, which makes accidental injuries more likely to happen;
They are unable to perform basic personal or household tasks, impacting their health as well as their overall quality of life.
Preparing Yourself For Nursing Home Care 
There are actions you can encourage older adult loved ones to take that can help to put off the need for nursing home care for as long as possible. These include:
Attending regular doctor visits;
Following the doctor's instructions regarding medications and treatments;
Getting regular exercise and eating a healthy diet;
Making the home as accessible as possible;
Accessing community services that can help in meeting some of the older adult's various needs.
Even when taking these actions, it is important to prepare for the potential need for nursing home care. Medicaid planning plays an important role in this process. By transferring property and assets into a trust, older adults can meet Medicaid's financial eligibility guidelines. This qualifies them for an array of services that can help with aging in place, such as home health aides, meal delivery services, transportation to doctor appointments, and adult daycare. It also helps in offsetting costs when a nursing home is eventually needed, preventing you or your loved one from having to pay out of pocket.
Let Us Help You Today
Medicaid has a five-year look-back period in determining eligibility. This means that now is the time to act in preparing for future needs. At Cavallo & Cavallo, we can guide you in the options available. Call or contact our Bronx & Westchester Medicaid & nursing home attorneys online and request a consultation in our office today.
Resource:
health.usnews.com/senior-care/caregiving/articles/identifying-the-right-time-for-senior-care